South East Asia and Universal Eye Health
South East Asia has one quarter of the world's population, but as much as one third of the world's blind people and half of the world's 1.5 million blind children live in the region [i]. Cataract, childhood blindness, refractive error, glaucoma, and diabetic retinopathy are the leading causes of blindness. Human resources are a major challenge impeding progress. In most countries, there is only one ophthalmologist for every 200,000 people, and about one mid-level eye care personnel for every half million people. Most of the eye care personnel are based in cities and towns; however around 75% of the population lives in rural areas. The reduction in the cost of intraocular lenses (IOL) has had a major impact in increasing cataract surgical rates in India and surrounding countries. There are also good examples of pro-poor financing, such as Bangladesh, where cataract surgery is subsidised.
India: Towards Universal Eye Health
Most eye care programmes in India have been structured around cataract, initially through surgical eye camps and then building the hospital base. India now has a good network of secondary eye hospitals in the voluntary and government sector. Over decades,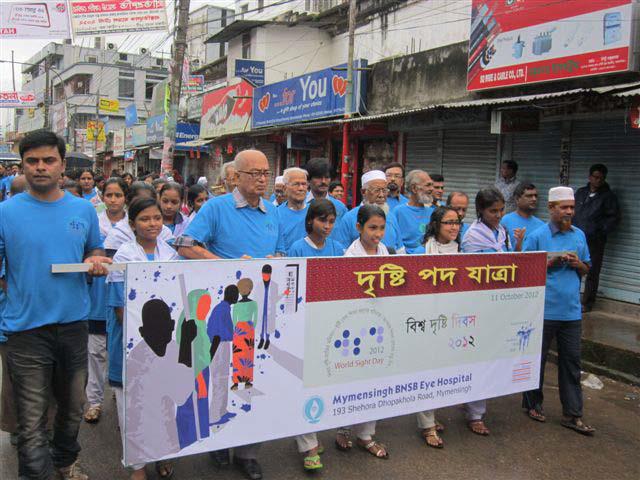 ophthalmology has developed a strong community orientation and promoted robust intervention programmes, largely through outreach and screening eye camps.
While screening camps identify and refer millions of people for cataract surgery annually, a study [i] conducted a decade ago showed that only 7% of those in need of eye care were attending camps. The focus on cataract was limiting and refractive errors, glaucoma and retinal disorders were not being diagnosed and treated.
Primary Eye Care (PEC) was then adopted as a more effective approach. Permanent centres were established in communities covering a population of approximately 50,000 people. Trained ophthalmic technicians and screening protocols were key to the approach.
The experience at Aravind Eye Hospitals has been most encouraging. Vision Centres, established for four years, have registered close to 20% of the population as unique patients. This represents almost the entire need for eye care services in the area. For the first time we have evidence of a model that can help achieve the elusive goal of universal coverage. This will be the key for managing chronic conditions like glaucoma and diabetic retinopathy, ensure regular follow-up and represent the last mile connection for uncommon medications.
The PEC approach has become part of India's National Programme for Control of Blindness. Funds have been allocated to establish 5,000 primary eye care centres during the 12th Five Year Plan. While there has been some progress in both government and voluntary sectors, more infrastructure is required. Enabling policies, minimum standards and technologies are also needed to expand eye care services at the community level.
(Excerpt from WSD13 Report on Universal Eye Health)
---
[i] "Low uptake of eye services in rural India"; Astrid E. Fletcher et al; Archives of Ophthalmology Vol 117, Oct 1999
---
With the Vision Centre model, India is closer to the elusive goal of universal coverage
[ii] Website and report 2012 listed on website