The Western Pacific is a large and incredibly diverse region. While causes of visual impairment differ widely, the two main causes are cataract and refractive error. New disease priorities are emerging with the prevalence of diabetes growing fast in many Pacific Island Countries and industrialising countries of Asia, as well as Australia and New Zealand. In resource-poor settings with weak infrastructure for water and sanitation, endemic pockets of trachoma remain, especially in the Pacific. In high-income countries, age-related retinal diseases are the most common causes of blindness. In this context, challenges for national programmes vary greatly. In small Pacific Island states, strengthening effective clinical services which rely on effective primary care networks, referrals and outreach programmes remains an ongoing challenge. Many countries of Asia have massive workforce challenges; particularly in the distribution of specialists in rural areas.
Encouragingly, Vietnam, China, the Philippines and Cambodia are strengthening social protection programmes and working within their means to provide universal access to eye health. Lao PDR – one of the poorest countries of the region – is committed to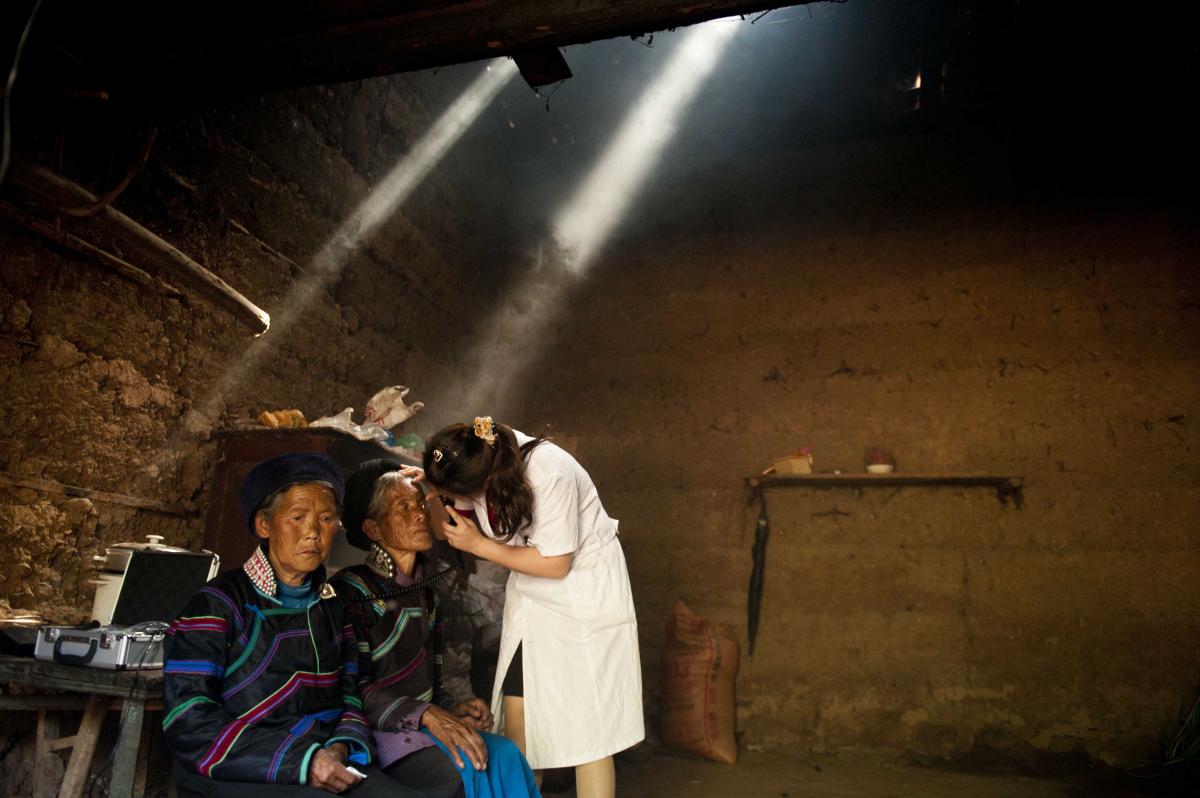 establishing a national health insurance authority with universal coverage in the next few years. Countries such as Singapore, Brunei, Australia and Malaysia have long established universal health agendas. Universal eye care in the Western Pacific region will only be achieved with adequate resources to expand and sustain these financing schemes, and additional funding for good practice blindness prevention programmes.
The Philippines: Eye health for every Filipino
The government of the Philippines has made a strong political commitment to ensuring that every Filipino receives affordable and quality health care and early in 2013, the Department of Health (DOH) issued an Administrative Order to make eye health and blindness prevention part of the country's ambitious health agenda. Recently, the Congress passed long-contested legislation for reproductive health and agreed to a new tax on tobacco and alcohol. The funds from that levy will be allocated to expanded health promotion programmes and the national health insurance programme, PhilHealth. These reforms are very timely for eye health.
A 2002 national survey of blindness in the Philippines found 362,000 people blind from cataract and 59,000 blind from refractive error, which put the prevalence of blindness at around 0.58%. To update this, the government is planning to undertake a rapid assessment of avoidable blindness in 17 regions later this year. Previously, eye health programmes were vertical in nature and often relied on international organisations and the voluntary sector.
Now, key eye health objectives contained in the draft national strategic plan for blindness prevention sit within a broader national strategy for non-communicable and degenerative diseases. The DOH blindness prevention officials work collaboratively with those responsible for diabetes, disability and rehabilitation and other conditions linked to ageing and chronic disease. Programmes and services, particularly at primary level and in provincial settings, will be able to make the most of shared referral and delivery infrastructure.
The Philippines is working to ensure the cost of accessing health is no barrier, and PhilHealth is the key to reducing costs for the individual and expanding access. Through PhilHealth, 40 per cent of the individual allocation goes to the professional (usually the surgeon), and 60 per cent to the hospital (usually a private facility). Reforms are planned to ensure that this is progressively adopted in government hospitals. A recent study commissioned by IAPB found PhilHealth was underutilised for eye health treatments, with rates as low as 7 per cent among marginalised population groups. The Department of Health has committed to further promoting PhilHealth and increasing awareness in disadvantaged communities.
Through the National Committee for Sight Preservation, key stakeholders in the Philippines are working to ensure eye health professionals in private and public practice are equipped to provide quality, comprehensive eye health services for everyone. Like many countries, a key challenge for the Philippines is workforce distribution and most specialist health providers are located in urban centres. The DOH is guiding reforms to ensure access for people in more remote areas, and considering ways to support professions to contribute to government health programmes.
(Excerpt from WSD13 Report on Universal Eye Health)