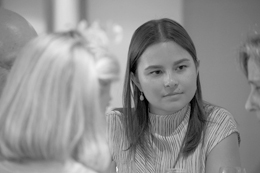 Jessica Crofts-Lawrence
Head of Policy and Advocacy
Jessica came to IAPB in April 2019 to develop the global policy and advocacy strategy and lead IAPB's engagement with key international institutions such as the World Health Organisation and the United Nations.
Before joining IAPB, Jessica spent over 4 years developing high-profile international justice projects at the Bar Council of England and Wales, working closely with Bar Associations, Chambers of Commerce, departments of justice and the Foreign and Commonwealth Office.
She holds a law degree and is currently pursuing a masters in International Relations at the University of Cambridge. Her research focuses on the International Criminal Court and the Rohingya Crisis.
Email: JCrofts-Lawrence@IAPB.org
Twitter: @CroftsJessica
Skype: jessica.crofts1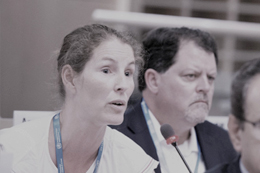 Zoë Gray
Advocacy Manager
At IAPB, Zoë has planned and delivered advocacy and influencing at global, regional and national levels. Her work spans universal health coverage, refractive error, inclusive health, vision rehabilitation and assistive devices, ageing and data, amongst other topics crucial to eye health and avoidable blindness.
Zoë leads on IAPB's partnership with WHO GATE and building relations with other key agencies. Currently she works part-time for IAPB.
Zoë has over 14 years' experience of strategising, planning and implementing advocacy programmes. She has extensive experience of engaging with governments, developing institutional partnerships, working in networks and alliances, and of capacity-building on advocacy. She has expertise in economic, social and cultural rights and advancing the rights of marginalised groups. Zoë is a trained journalist.
Email: Zgray@iapb.org
Twitter: @zoejgray
Skype: zgray_iapb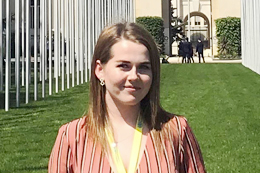 Holly Aindow
Policy and Advocacy Officer
Holly came to IAPB as intern in June 2019 before being appointed as Policy and Advocacy officer in September 2019.
Before joining IAPB, Holly spent 5 months as an intern at the World Health Organization working on the Noncommunicable Diseases Blindness and Deafness Prevention, Disability and Rehabilitation team. Holly assisted with the launch of the Standard & Toolkit for Safe Listening Devices, World Hearing Day, the launch of the hearWHO app and World Health Assembly activities. Holly was also the lead person working towards the launch of the World Hearing Day Report of Activities 2019.
Holly's background consists of a Bachelor of Arts (Honours) in Journalism from the University of Chester and a Master of Science in International Politics from the University of Stirling. Prior to starting her educational career, Holly worked as an auxiliary nurse for the local health authority and continued to do so during her studies. Holly is passionate about her research in cognitive decline and its link to dementia in the ageing population.
Email: haindow@iapb.org
Twitter: @hollyaindow
Featured Advocacy Articles