This World Glaucoma Week (8-14 March, 2020) IAPB is partnering with international organisations and experts in glaucoma care to draw a spotlight on the third leading cause of blindness. IAPB is launching a new campaign, "Focus On: Glaucoma" and we are marking the week with a series of activities: lectures, webinars, blog posts and more.
Are you marking WGW2020? We have posters and other material for your to download–more below.
In 2015, nearly 3 million people were blind due to Glaucoma, and 4 million had moderate to severe vision impairment. Let's talk about the third leading cause of blindness…
A high-profile lecture featuring Geoffrey Wabulembo, Cindy Tromans and Karinya Lewis at the John Snow Hall, LSHTM, London–do attend!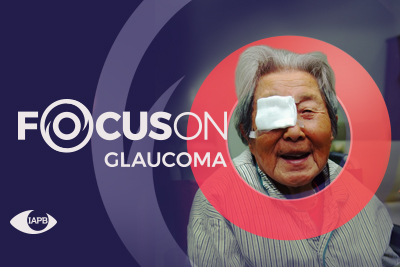 Five webinars covering Africa, North America, South East Asia, Europe, and Latin America . Speakers include some of the biggest names in Glaucoma from around the world.
Download Focus On: Glaucoma posters, social media templates for Twitter, Facebook and LinkedIn, customise them and share them to mark WGW2020.
Read up on the latest thinking in public health Glaucoma through blog posts and experiences by glaucoma experts from around the world.