Mexico City played host to IAPB's global event to celebrate World Sight Day, the most popular day in the eye health sector's calendar, in 2014. Hosted in partnership with the Mexican Society of Ophthalmology, 400 delegates, including decision makers, representatives from the educational and academic sector, professional bodies of optometry and ophthalmology, WHO, PAHO, NGOs and key players from industry came together on October 9th to celebrate World Sight Day and to show their united commitment to blindness prevention on a regional and globally level.
With a focus on the new Global Action Plan by WHO, opinion leaders discussed the importance of the implementation of the action plan on a local level.
Academic sessions
The day started with a series of sessions focused on academic exchanges between speakers from across the world and delegates from Mexico and the region. The sessions drew attention to blindness prevention priorities in the region and also showcased work undertaken by various stakeholders. The sessions furthermore looked at numerous issues of interest to the region, from a GAP perspective. These included sharing information on regional successes and good practices and discussions on persistent issues like cataract or emerging conditions like Diabetic Retinopathy.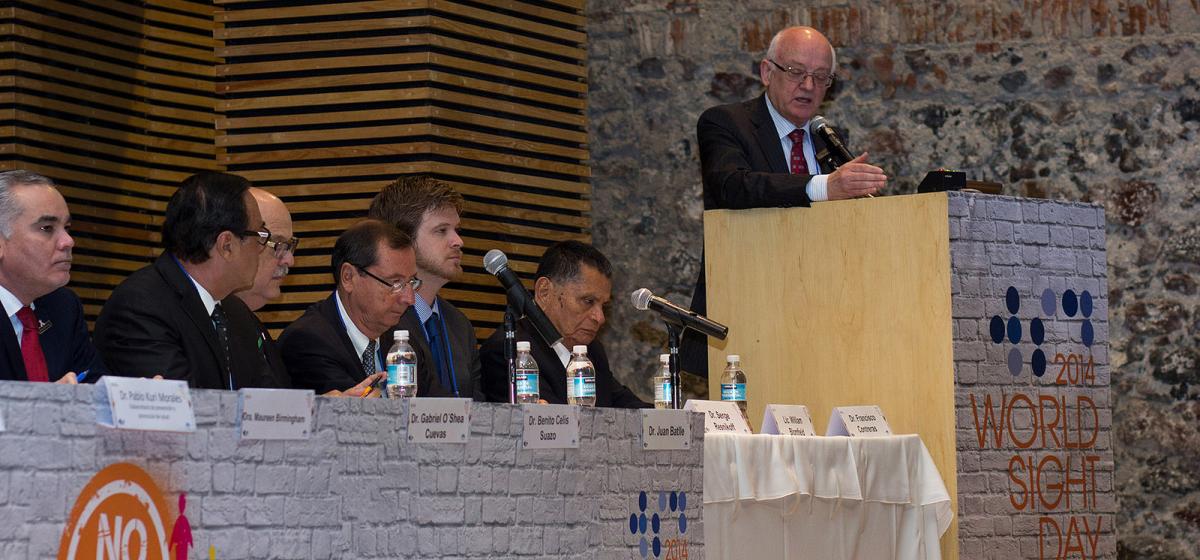 The morning sessions ran parallel to a very successful press meet, which included the keynote speaker for the evening Dr Serge Resnikoff, IAPB's President Mr Bob McMullan, the World Health Organization (WHO)'s Blindness Prevention Officer, Dr Ico Kocur, Dr Juan Carlos Silva, PAHO and was led by Dr Juan Batlle, IAPB's Regional Chair for Latin America. The event saw widespread coverage in all key media – print, web, TV and Radio and the objectives of the Global Action Plan were discussed with the journalists present.
Official Opening Ceremony
The formal opening ceremony, with representation of International and Mexican dignitaries, including representation from the Mexican Ministry of Health launched World Sight Day 2014.
The ceremony began with the screening of a video introducing GAP. The ceremony was hosted by Prof Juan Batlle and Dr Benito Celis, President, SMO. Speaking at the ceremony, Bob McMullan said, "World Sight Day is about awareness-raising for a significant global challenge – but, it's a global challenge we can solve. The world is full of intractable problems – avoidable blindness is not one of them". Speakers included Dr Enrique Graue, the International Council of Ophthalmology (ICO); Dr Francisco Navarro, Dr Maureen Birmingham, WHO/PAHO Mexico and Dr Armando Ortega, Under Secretary of Health, Mexico, among others. On behalf of the Mexican government and the Ministry of Health, Dr Navarro announced a 10-point programme underlining the Mexican Government's commitment to blindness prevention and eye health on the occasion of World Sight Day:
Establish National Registry System of eye diseases.
Measurement via RAAB methodology
Undertake refractive errors screening in paediatric population
Undertake adult screening for refractive errors and cataract
Make screening and treatment of Diabetic Retinopathy a key health priority
Screening and treatment of ROP and the full term baby
Set-up National Registry of Cornea transplants
Medications and various equipment needed for treatment of eye conditions.
Generating demand for planning and allocation of resources in Ophthalmology
Certifying process of trachoma and onchocerciasis elimination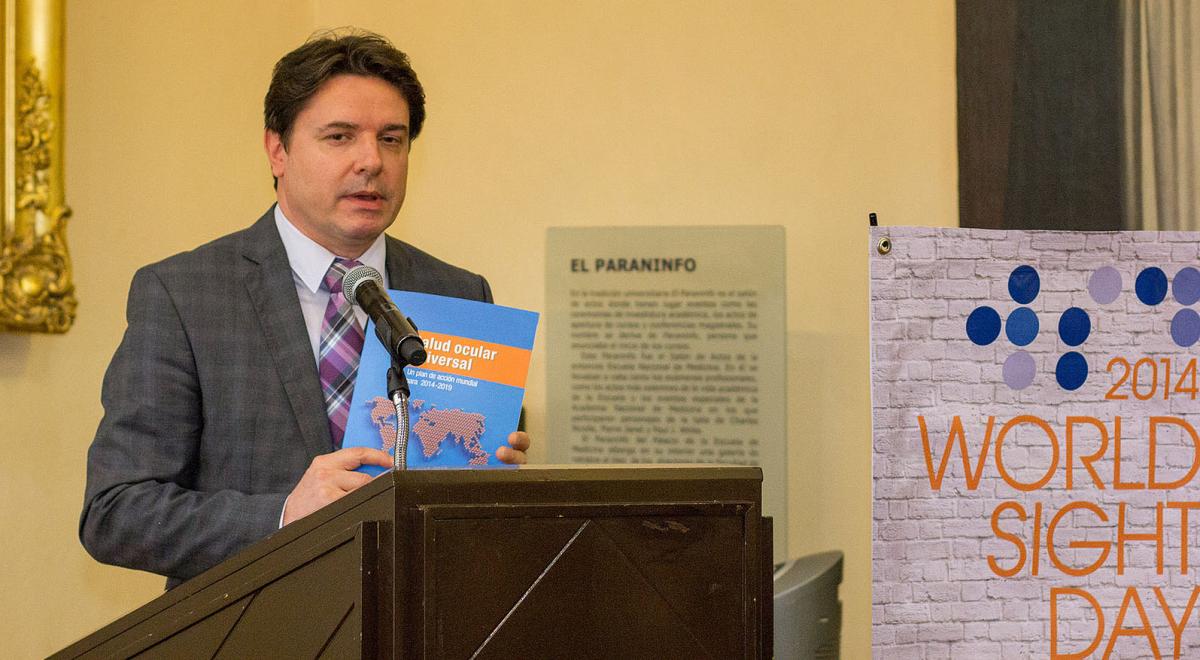 Dr, Juan Carlos Silva, PAHO Eye Health Advisor announced the launching of the regional plan for the Americas and the Caribbean, focusing on other priorities over and above those of the GAP, based on the multiple RAAB studies published, such as Glaucoma, DR and ROP. Dr Birmingham noted, "Given the population growth and aging, if we don't accelerate our efforts towards prevention, the amount of blind people would double until 2020".
The morning sessions looked at numerous issues of interest to the region, from a GAP perspective. These included sharing information on regional successes and good practices and discussions on persistent issues like cataract or emerging conditions like Diabetic Retinopathy.
Partnerships in Eye Health Session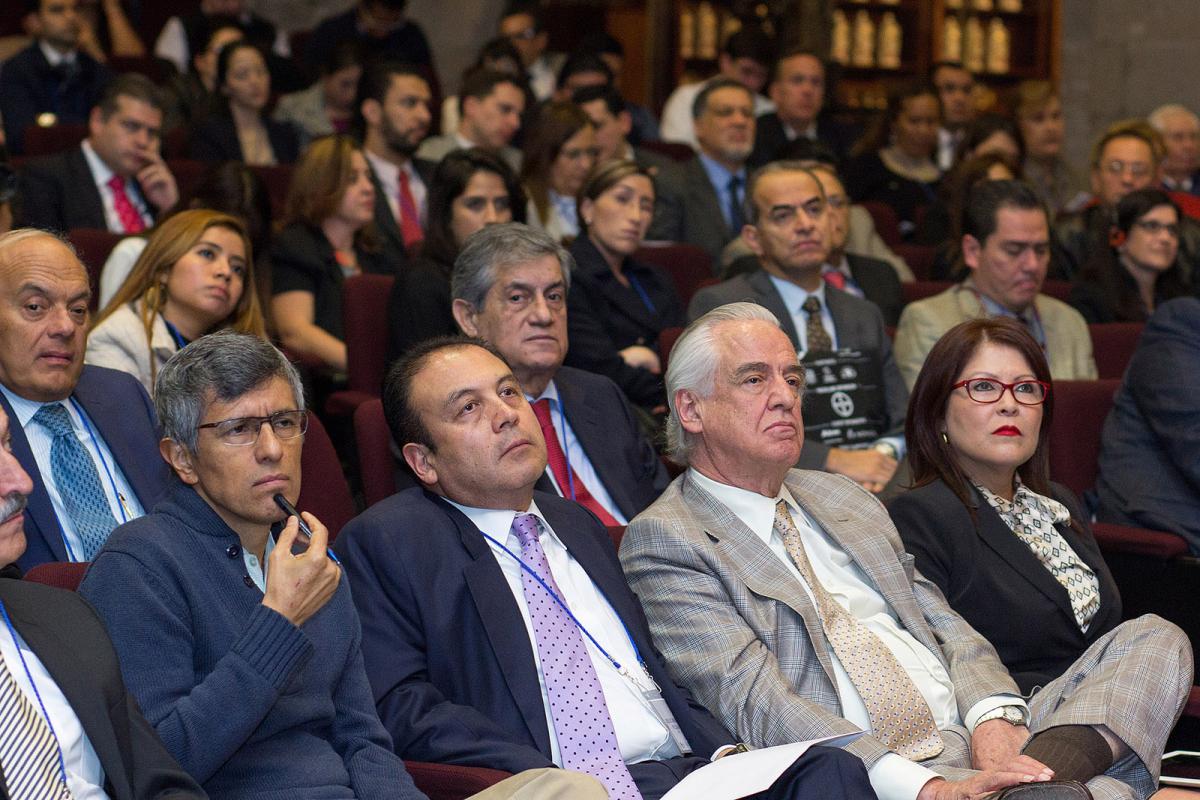 The afternoon saw a special 'Partners in Eye Health Session' with many IAPB member NGOs and partners sharing their experiences. The presenters included CBM, IAPB Latin America, International Council of Ophthalmology, Lions Clubs International Foundation, Optometry Giving Sight, World Council of Optometry, ORBIS, Ver Bien, VISION 2020 Mexico and PAHO.
Gala Event
The Gala event began with a speech from Mr Bob McMullan. Thanking all the sponsors and participants for the event, Bob urged them to all make World Sight Day a 'catalyst for action' so that we can build on our remarkable achievements and deliver on GAP's objectives. Dr Ivo Kocur, Blindness Prevention Officer, WHO spoke next, showcasing the opportunity presented by the Global Action Plan. He discussed the objectives of GAP and emphasised the need to promote enthusiasm and dialogue across the sector to ensure that we meet GAP objectives by 2019. He said, "The global eye care action plan is centered around Universal Health Coverage achieved in the area of Eye Health through comprehensive Eye Care Services integrated into every national health system. Universal Health Coverage means that all people obtain the health services they need without suffering financial hardship when paying for them".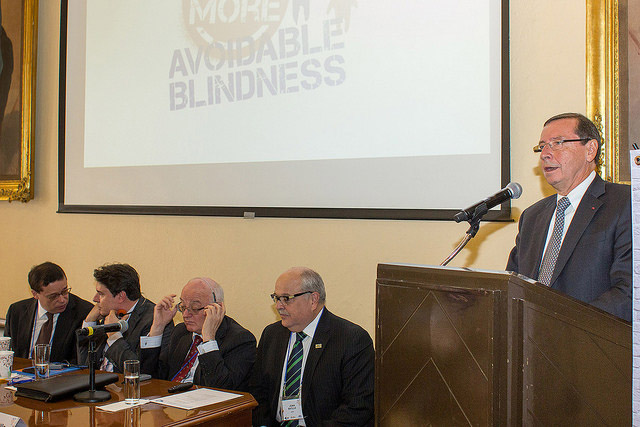 Prof Juan Batlle, the evening's host, then invited Dr Serge Resnikoff to deliver the keynote address. Speaking on the Economic Costs of Blindness, Dr Resnikoff underscored the fact that investing in blindness prevention gives a four-fold return, especially in developing countries. He also spoke about the need for a comprehensive approach to eye health, as a variety of 'other' causes – those that are traditionally unaccounted for, in our statistics – have had an increasing impact on the numbers.
Dr Gerhard Albrecht from Bayer – the Headline Sponsor of the event – spoke about the importance of innovation in health care. He spoke about the looming demographic crisis – by 2050 the number of people 50 years and older will be more than those 14 years and below – and the likely impact it will have on our planning. "We have to act now, and Bayer is delighted to be working with all of you to ensure there is 'No more Avoidable Blindness'", he said. Ms Lynne Pezzullo, Deloitte Access Economics, spoke about the economic impact of blindness in Mexico. Quoting her research, she noted that the cost of blindness in Mexico is close to USD 434 million dollars (including informal health care costs and productivity costs). 4 conditions, Cataract (39%), Diabetic Retinopathy (33%), Glaucoma and others are the main sources of costs around eye health in Mexico. Dr Francisco Contreras, a veteran eye health specialist in the region, spoke about the region's history of avoidable blindness.
A very lively panel discussion on challenges and opportunities presented by the WHO GAP ensued. Dr Susan Cooper, World Council of Optometry (WCO), spoke about WCO's partnership with the WHO and their advocacy efforts to get information about GAP out in all the regions. Dr Eric Cornut, Alcon and Novartis spoke about his company's deep commitment to blindness prevention and to ensuring that patient goes back home with the best possible outcomes. Dr Juan Carlos Aragon spoke about the impact of Optometry Giving Sight across the world, and particularly in Mexico, in education and in advocacy efforts for treating Uncorrected Refractive Errors. Dr Juan Carlos Silva, PAHO said, "Today we are moving towards integration of Eye Health Plans with other Health Plans. For example ROP planning should be included in Prematurity plans. Cataract plans should be included in population aging management plans". Dr Fernando Barria added "We should correct presbyopia in people over 40s, which in many cases disables a person for work. We also have to take care of children's vision. Generally kids won't tell us they can't see properly, that is why we should do screening and if possible provide them with spectacles as needed.""
The event ended with all participants reiterating their support for avoidable blindness and for implementing the Global Action Plan.
IAPB would like to extend our sincere appreciation to the group of dedicated individuals and organisations who helped make World Sight Day in Mexico a unprecedented success.
Special thanks goes to our local Organising Partner the Mexican Society of Ophthalmology, specifically to Dr Benito Celis and Dr Francisco Martinez for their leadership and facilitation of a fantastic programme. Thanks to Dr Enrique Graue from UNAM for providing a special venue for the event.
Also a profound thanks to all our speakers and presenters who played an essential part of the event and help us delivery a thought provoking programme. Thanks to all the delegates who helped celebrate World Sight Day 2014 and in raise awareness of the importance of eye health.
Finally, we wish to thank Bayer, Novartis, Clarity, Thea Laboratories, Orbis, Ver Bien, Servimed and The Mexican Institute for Ophthalmology for their generous support of the event.
"Pictures provided with support from Bayer and Imagen Optica Mexico"