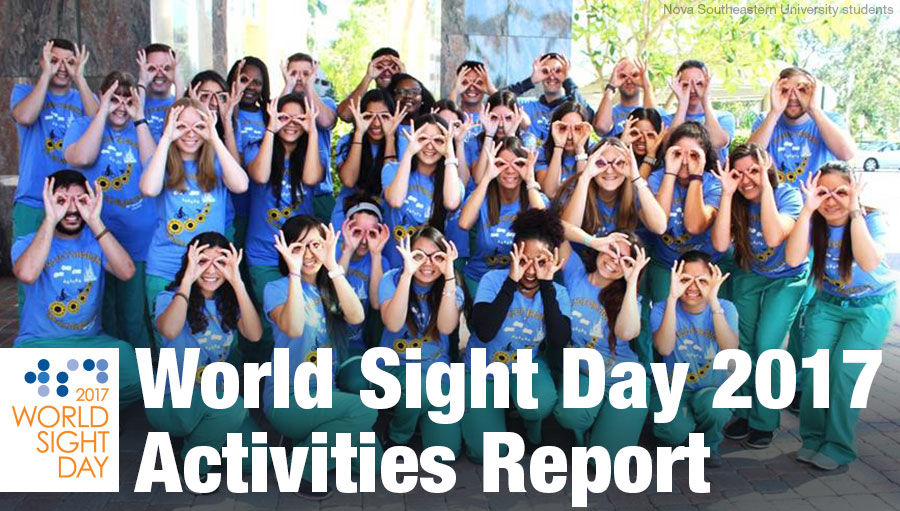 In 2017 the World Sight Day fell on 12th October 2017 with the theme "Make Vision Count". 2017 was remarkable in not just that we had some new data available on global blindness and visual impairment, but also because of the record number of events we recorded. We were informed of WSD celebrations in 115 countries (compared to the 92 countries we had in 2016).
You can download the World Sight Day 2017 Activities Report to see in detail, what took place where.
We record 608 events from these 115 countries. These include awareness events, seminars, launches, donation drives, rallies and online events. In addition to this IAPB Italy, celebrated World Sight Day in 100 Italian cities, the Lions of France held 225 events and Optometry Giving Sight's WSD Challenge was supported by 21 optometry schools and 45 companies. World Sight Day also found a lot of national support in the Eastern Mediterranean, with the National Anti-Blindness Committee in Saudi Arabia celebrating in 25 Saudi cities and the MoH in Oman in 61 "Wilayats". We also record huge national celebrations in Ethiopia and Ghana.
2017 was also the third year of our photo competition, which we organise with support from Bayer. The #MakeVisionCount photo competition received close to 1200 submissions and all the images are up on our Flickr albums to use (please do credit the photographer).
This year too, World Sight Day found a mention in the Pope's address. The WHO also marked the day with a special newsletter.
In case your event did not find mention in the report please write to us at communications@iapb.org
Type of events

Awareness
Seminar
Online Events
Screening
Launch/Donation
Walk / Procession
Send your World Sight Day 2017 event details and photographs to communications@iapb.org to have it included in the World Sight Day 2017 Activities Report.