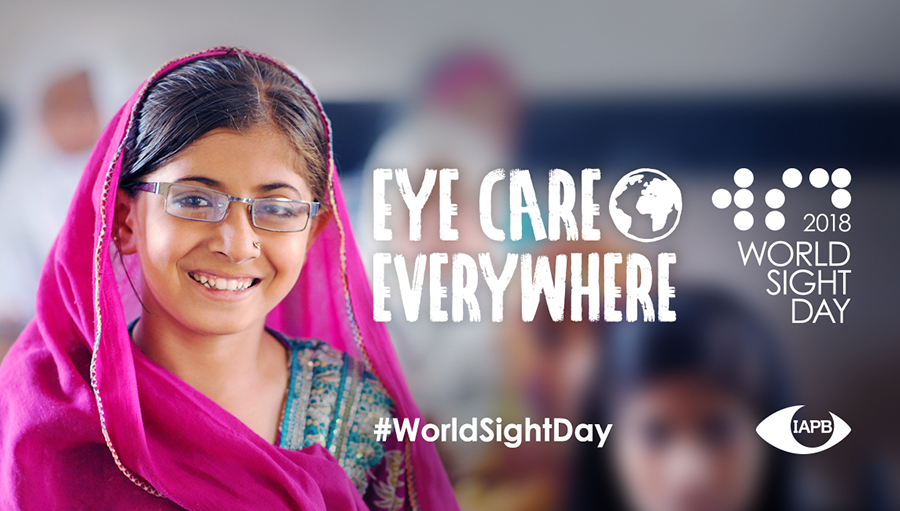 World Sight Day is the most important advocacy and communications event on the eye health calendar. It is a great time to engage with the world around us – a patient's family, those who seldom get an eye exam, diabetics. We have the data and evidence. We also have projections into the future–and we know things can go bad, if we don't act now.
This year, let us draw attention to eye care issues so that everyone, everywhere has access to good eye health. What's the first thing you can do? Plan for an eye examination. Look around in your family, especially for those who are vulnerable: young, school-going children, the elderly, those with diabetes.
Download the WSD18 Activities Report to see how the world marked World Sight Day in 2018!
World Sight Day 2018 will be on 11 October 2018. This year's call to action:
Eye Care Everywhere
We know now that 1.2 billion people don't have access to glasses. Over 3 out of 4–>75%–of the world's vision impaired are avoidably so. What can be done to arrest this unconscionable fact? First, arm yourself with your country's prevalence data and Eye Health system information–the number of trained eye health personnel, your country's plans to tackle blindness.
This World Sight Day, let's find the solutions to ensure that everyone, everywhere has access to sight.
WSD18 Activities Report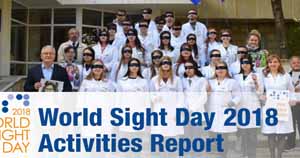 Download the World Sight Day 2018 Activities Report where we record 853 events from 149 countries. These include awareness events, seminars, launches, donation drives, rallies and online events.
Eye Inspire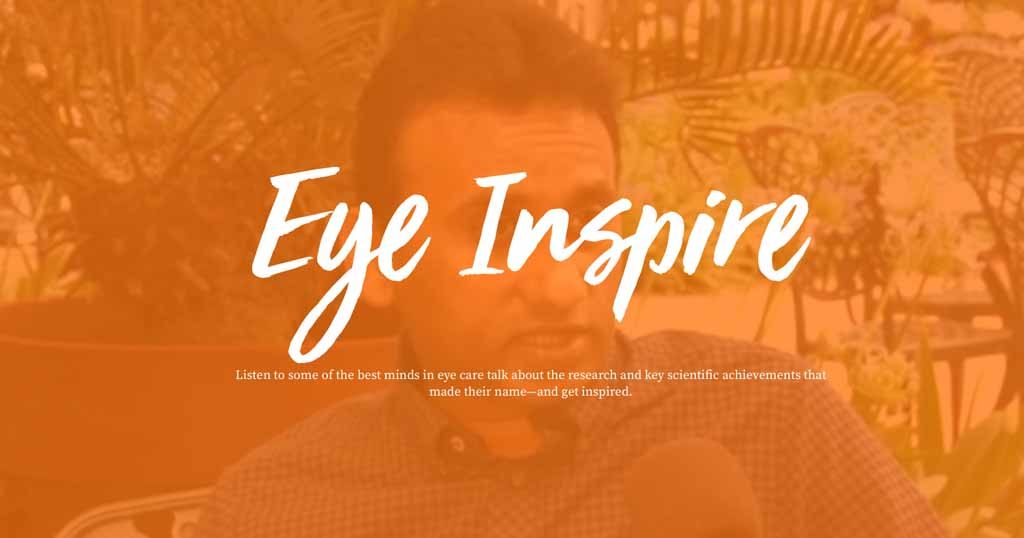 This year, listen to some of the best minds in eye care talk about the research and key scientific achievements that made their name—and get inspired.
Eye Inspire microsite: http://eyeinspire.iapb.org
IAPB Photo Competition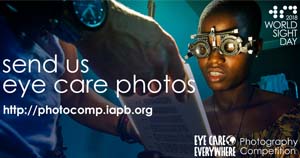 This year too, IAPB and Bayer are encouraging amateur and professional photographers from around the world to take part in an International Photography Competition with theme, 'EyeCare Everywhere'. Send us your pictures with the theme #EyeCareEverywhere by 11th October 2018.
Photo competition microsite: http://photocomp.iapb.org
Audiences
Key decision makers, policymakers, government officials, patients, partners/donors and the wider health community (referral networks like diabetes groups, for example) can be invited to participate in our WSD celebrations. Remind them about what they can do to address vision issues in the community, and make them take a public commitment on World Sight Day! Better still, recognise (small or large) acts of support from these stakeholders and celebrate them on World Sight Day. More than 70 WHO Member States now observe and promote World Sight Day (with WHO support) through the provision of critical evidence, strategic communications and infographics.
Areas of Focus
Irrespective of your area of focus this World Sight Day – cataract, glaucoma, diabetes, eye care management – 'EyeCare Everywhere' works. You can use it to reach out to new groups within your work-area, or to highlight support or funding that has helped you deliver quality eye care services.
Social Media
IAPB is focusing all efforts on promoting the hashtag #EyeCareEverywhere this year. It will also be used to promote and tag the photo competition entries (see above). We invite you to join us in promoting this hashtag in the run-up to World Sight Day. Do add your messages and information along with the hashtag. Need help?
Let us know.
WSD Promotional material
Like every year, IAPB has a great pack of promotional material that can be used as part of your WSD campaign. We will be producing posters, ribbons, balloons and an implementation pack in colourful and interesting designs.