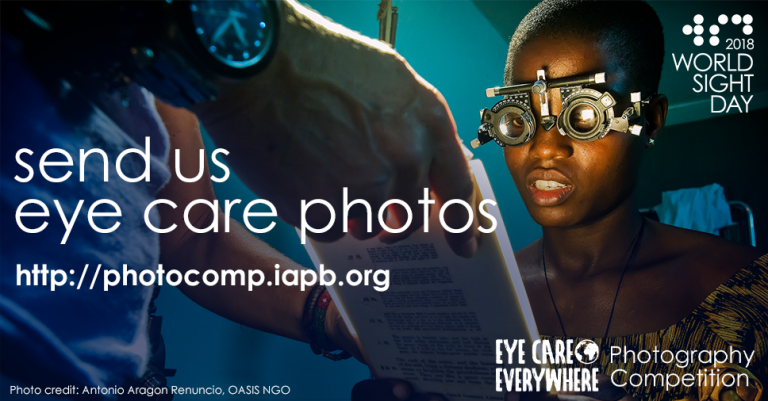 The International Agency for the Prevention of Blindness (IAPB) invites amateur and professional photographers around the world to join us in highlighting the impact of eye health in people's lives, by taking part in an International Photography Competition with theme, 'Eye care everywhere'.
Participating in the competition
Send us your pictures – professional shoots, amateur compositions by 11th October 2018 – World Sight Day. Upload your photos on the photo competition microsite: http://photocomp.iapb.org
Winners will be announced on 15th October 2018.
Prizes
The prize for the winner (professional category) is USD 1000 and amateur category is a Canon 1200 D DSLR. Runners up will receive certificates.
A IAPB Council of Members 2018 Delegates' Choice certificate will also be awarded to the photo receiving the highest number of votes at the Council of Members held in Hyderabad.
How to participate in the photo competition
Upload your photograph on the microsite http://photocomp.iapb.org
You will receive an email notification once your upload is successful. Photos may take 2-3 working days to be published on the website.
Every week Editor's picks will be chosen and shared on Facebook. Participants will be notified by email. Viewers can vote for their favourite picture. This Facebook vote will be taken into the final score of the photo. Picture will be scored against the following:
Composition of the photo
Quality of the photo
How well does it represent the theme
Popularity
The IAPB Council of Members 2018 delegates will also be asked to vote for their favourite picture from a shortlist of Editor's picks. The winning picture will receive a certificate.
The highest scoring photograph from the professional and amateur category will be declared the winner along with 5 runner ups for each category.
The last day to submit photographs is on World Sight Day, 11th October 2018.
Winners and runner ups will be announced on the IAPB.org website and notified by email on 15th October 2018.
If you do face difficulties uploading due to internet speed, do contact us on [email protected]
About the sponsor
Bayer

is a global enterprise with core competencies in the Life Science fields of health care and agriculture. Its products and services are designed to benefit people and improve their quality of life. At the same time, the Group aims to create value through innovation, growth and high earning power. Bayer is committed to the principles of sustainable development and to its social and ethical responsibilities as a corporate citizen.