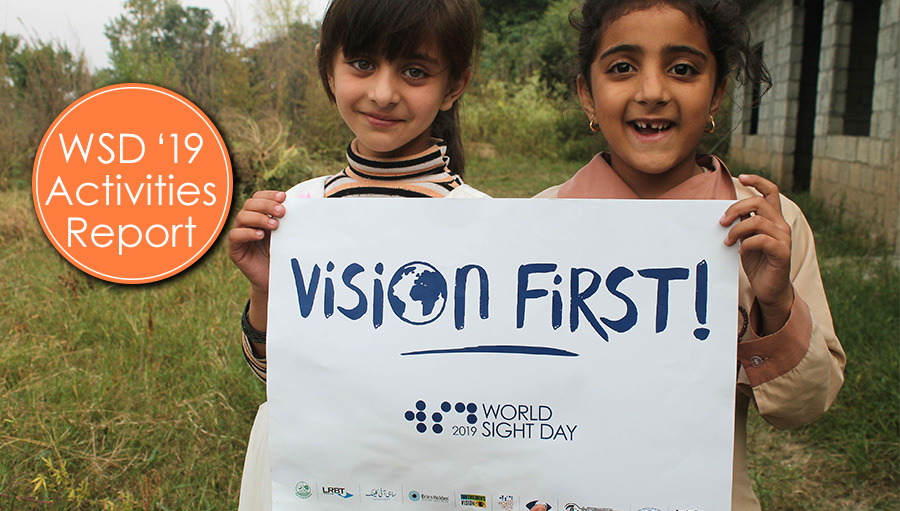 IAPB members make an impact on World Sight Day 2019
World Sight Day 2019 saw the launch of WHO's World Report on Vision—a seminal document that will set the framework for the future.  This document is crucial as we reach the end of the VISION 2020 period and as a sector are looking to what's ahead.
IAPB Italia aimed to reach 30,000 people across 80 cities in Italy.
IAPB members and partners were leading from the front this World Sight Day, which was on 10th October 2019. Many rallied under the call to action, "Vision First!" and helped spread the word about vision impairment and eye health.
The Fred Hollows Foundation and its partners reached 3800 children in China.
Reaching thousands
Many thousands were screened and sensitized about eye health on WSD 2019. Looking at numbers, we were able to capture events from 75 IAPB member organisations across the membership (we're sure there are more!). We have 211 reported events from them from 48 countries. An additional 54 events were sponsored or supported by our members.
OneSight ran events in 10 countries this World Sight Day, and in Thailand, they screened 10,000 students and the Brien Holden Vision Institute screened 2899 people in Pakistan.
The Western Pacific (61 events) followed by the South-East Asia region (54 events) is where the maximum events were reported. India recorded the maximum number of events (30) followed by USA and Pakistan (18-member events each).
CBM estimate that a million people in Indonesia will have been sensitized on the importance of eye care by their #EyeStandByU campaign.
Kudos to all the members for putting #VisionFirst this World Sight Day. We collaborated with Ministries of Health to hold rallies/conferences, with partners and stakeholders to lead launches or sensitise the general public about the importance of eye health through social media campaigns or fundraisers.
We can't wait to see how World Sight Day in the pivotal year 2020 will be marked.
The overall report has 755 events from 143 countries.
In case you marked the day and don't see your event, do write to us at communications@iapb.org to be included.
Type of IAPB Member Events

Awareness
Seminar
Online Events
Screening
Launch/Donation
Walk / Procession
Policy Updates
Top countries for Member Events