The Fred Hollows Foundation Vietnam
Uncorrected RE is the leading global cause of visual impairment (VI) and the second most common cause of blindness after cataract ([1]). Approximately 2,581,000 Vietnamese children aged 0–14 have VI and 1,720,700 children have never received refractive correction or worn spectacles[2]. In the project provinces where the comprehensive eye care development project (SiB5 project) is supporting to strengthen school eye health programs, there are 678,452 students in target districts need eye health education and eye check-up, and of which 29,785 (4.39%) students might have visual impairment if not detected and treated timely.
Having good vision enables children to gain healthy development, educational achievement and school participation ([3],[4],[5]). While VI can impair full development of children ([6]), 80% of children do not like to wear spectacles, only 30% of those who have eye problem inform their parents of their situation, and 20% of parents do nothing after being informed about their children's eye problem. ([7])
SIB5 was designed with various kinds of communication activities to promote eye health and prevention of blindness for children. In addition to producing information, education and communication materials, direct activities are also planned to gain more attention of communities and create higher interaction between the potential beneficiaries and the conveyed messages. In quarter 4 of 2015, in 2 provinces of Tien Giang and Vinh Long in Mekong Delta, 2 child eye health contests were organised successfully.
Two writing papers for the contest in Vinh Long province
In Vinh Long, the writing contest attracted 545 groups of contestants. They were from individuals, schools, government agencies, and health units. The project management board cooperated with the provincial centre for health education and communications (the center) to develop the contest plan. Through channel of the center, information of the contest was delivered to all agencies in the province. The contestants were guided to search data and information at ophthalmic sources recommended by local ophthalmologists.
The contest really attracted the attention of communities as seen by the high number of applications. The closing ceremony was organised with the participation of representatives of contestants and local media.
In Tien Giang, an online contest was organised and mainly coordinated by the provincial department of education and training who are looking after nearly 100 percent of children at school age. The target contestants were students at secondary schools. This kind of contest is interesting and attractive to students who are familiar with smart phones and computers.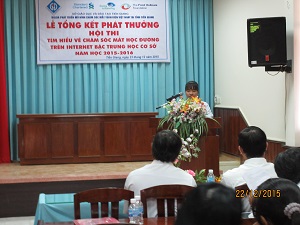 The student is sharing her impression of the online contest in Tien Giang province
Thanks to the education system, all secondary schools in the province were informed about the contest and guidance of methods of registration. 10,299 contestants, which accounted for 10% of students of secondary schools in the province, registered and participated in the contest.
The contestants had to search for eye health information to answer the questions focusing on reasons and treatment of VI. The contest was significantly encouraged and appreciated by communities, schools and parents. Interestingly, the provincial telecom agency of Tien Giang sponsored the software for this contest which was integrated onto the website of the provincial department of education and training.
The contestants are receiving the awards in the closing workshops of the online contest in Tien Giang province and the writing paper contest in Vinh Long province
The contests were cost effectively organised. After the contests in 2 provinces, barriers were identified and this lesson learnt will be used to create better and more diversified contests in the future.

Le Quang Tram Tinh
tle@hollows.org
Program Officer – East Asia
[1] Global estimates of visual impairment: 2010, S.P.Mariotti, D. Pascolini, Br J Ophthalmol. 2012 May;96(5):614‐8. Available at http://www.who.int/blindness/data_maps/VIFACTSHEETGLOBALDAT2010_1.pdf?ua=1.
[2] Prakash Paudel et al, 2014, Clinical and Experimental Ophthalmology.
[3] Lechelt, Eugene C and Hall, David L. The impact of vision loss on the development of children from birth to 12 years: a literature review. The Canadian
National Institute for the Blind.
[4] Poor eyesight and educational outcome in Ethiopia. Poppe, R. 2014, Review of the Black Political Economy, Vol. 41, pp. 205-223.
[5] Effect of providing free glasses in children's education outcomes in China: cluster randomized controlled trial. Xiaochen, M, et al. September 23, 2014, BMJ, Vol. 349:g5740.
[6] When your eye patient is a child. Chandna, A and Gilbert, C. 72, 2010, Community Eye Health Journal, Vol. 23, pp. 1-3.