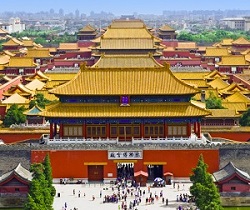 The meetings
IAPB is working closely with the regional secretariat and the recently formed IAPB China Committee, which brings together NGOs, hospitals and research institutes from across China, to ensure the event provides a key opportunity to take our advocacy messages forward with the National Health and Family Planning Commission (NHFPC, former Ministry of Health) and the Chinese Government.
One of the two days of Council meetings will focus entirely on China, its progress and challenges towards Universal Eye Health, including a presentation and Q&A with the Ministry, and key themes such as cataract, refractive error and diabetic retinopathy.
The second day of the Council will see discussions on key global issues, including the new Sustainable Development Goals (by then newly approved by the UN General Assembly), tools to monitor country-implementation of the Global Action Plan, the growing problem of myopia, and of course the IAPB Annual General Meeting (AGM).
Evening networking events will also provide delegates with plenty opportunities to informally engage and exhange ideas with peers, and the IAPB Board, Committees and Work Groups will meet prior and after the Council.
12 October

IAPB Committees

IAPB Board of Trustees

13 October

IAPB Council of Members – China Day

followed by Council Opening Reception

14 October

IAPB Council of Members

followed by Networking Reception

15 October

IAPB Board of Trustees

IAPB Work Groups
Click here for a detailed schedule of meetings.
Opportunities for Members
Eye Health Leaders
Once again the Council meeting will also be an opportunity for Members to celebrate those professionals and practitioners tirelessly working behind the scenes to bring eye care to all those in need.
All IAPB members are encouraged to nominate an individual (from among their own staff or partner organisations) whose efforts over the past year deserve to be highlighted and shared as an example. Eye Health Leaders will feature in a celebratory event at the Council meeting on 14 October.
Eye care market place
At the Council, Members will also have the opportunity to showcase their achievements and activities by taking up a table for display or producing a poster presentation. Tables and poster boards will be available in the coffee break area and all members are welcome to take up the opportunity to present their work, particularly in China, but also globally, via one means or the other.
Click here for full details on members' opportunities around the Council meeting.
Venue and registration
The meeting will take place at the Beijing Marriott Hotel City Wall in downtown Beijing. Preferential group rates are available for delegates.
Click here for full delegates' information.
The two-day Council meetings are open to all IAPB members and partners – pre-registration is required.
Board, committee and work group meetings taking place prior and after the Council are for board, committee and work group members only. Check out information for delegates, schedule and opportunities for members.