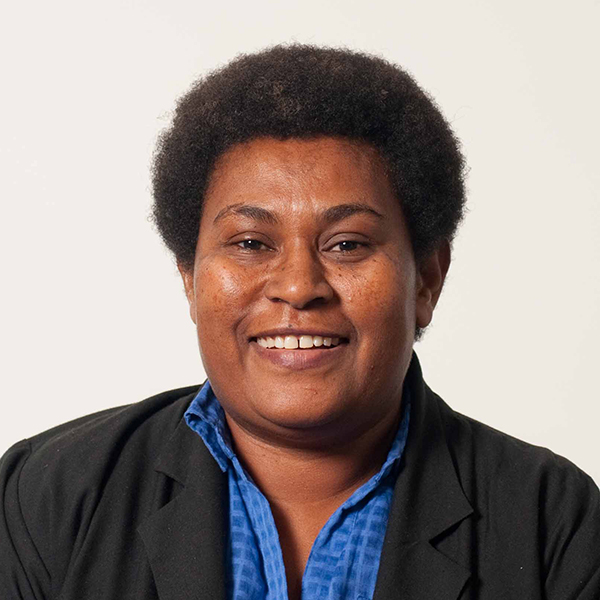 Deputy Chief Ophthalmologist – Papua New Guinea
Nominated by Brien Holden Vision Institute
I have always believed in team work. There are so few of us in PNG that we all need to work together. It has been an honour to be part of a team that is achieving so much for ophthalmology and eye care in PNG
— Dr. Jambi Garap
About Dr. Jambi Garap
Dr Jambi Garap, Papua New Guinea's (PNG) dynamic Deputy Chief Ophthalmologist and President of National Prevention of Blindness Committee, has been a pioneer in tackling health and social barriers and a relentless advocate within the government and health sector in developing sustainable eye care systems within PNG.
After completing her ophthalmology training in 1998, Dr Garap recognised a wholistic approach to eye care was necessary. She was instrumental in establishing a certificate course to train qualified mid-level eye care workers. Between 1999 and 2002 Dr Garap worked with private optometrists to obtain spectacles for the town of Rabaul, identifying a significant need for affordable custom-made glasses and the systems and personnel to deliver them.
In 2008, PNG Eye Care, with Dr Garap as President, was formed with support from Brien Holden Vision Institute to provide this service. It was the first local, not-for-profit, NGO of its kind in the country. PNG Eye Care has developed a spectacle supply hub and spectacle workshop at its Port Moresby Vision Centre and established vision centres in the regional towns of Buka, Mendi and Rabaul, staffed by "spec-techs" to cut, fit and dispense spectacles. PNG Eye Care also supplies as many as 30 hospital, clinic and outreach sites around PNG through its National Spectacle Supply Program. It has also facilitated training of refractionists, spectacle technicians and primary health care, dramatically improving the availability and access of optometric services. PNG Eye Care programs have screened in excess of 25,000 patients with 15,000 receiving low cost spectacles.
Dr Garap has also played a leading advocacy role in PNG and the Pacific being integral to the formation of the National Prevention of Blindness Committee (NPBL), which brought all stakeholders in the eye care field together. She's a strong advocate for gender equity to be part of all eye care programs. Her many other achievements include: development of the National Eye Plan; registration of trained eye care workers as ophthalmic clinicians with the medical board; oversight of the Global Trachoma Mapping Project (surveying 17,000 people); obtaining support from CBM for an Associate Professor of Ophthalmology at University of PNG; and establishing the national resource centre with Brien Holden Vision Institute and Lions Club International. She is a founding member of PacEyes.