Eye Health Hero: Albrecht Hennig
CBM is very proud to nominate Dr Albrecht Hennig from Nepal as it

s 9GA Eye Health Hero. 

Dr Hennig, through his hospital network in Nepal, has made a significant contribution to 

VISION 2020 by reducing avoidable blindness in the region. Be it eye care services or strengthening human resource capacity in Nepal, Dr Hennig's contributions are much lauded and many. As per the Rapid Assessment of Avoidable Blindness (RAAB) survey report of the region, the prevalence of blindness decreased from 0.98 to 0.21 in the Sagarmatha Zone and from 0.99 to 0.35 in Koshi Zone when compared to 1981 data. These results, in many ways, are Dr Hennig's results.
CBM, a hundred-year-old international Christian development organisation, and key IAPB member, plays a big role in ensuring eye care services reach the underserved in some of the most remote and rural corners of the world. It has become one of the leading professional organisations for people with disabilities worldwide. Currently, CBM supports over 749 projects in 81 countries.
Dr Hennig, a distinguished ophthalmologist, runs the Sagarmatha Choudhary Eye Hospital (SCEH) in Lahan, Nepal. A collaboration between CBM and Nepal Netra Jyoti Sangh, SCEH began in 1983 as a 12-bed hospital in a remote corner of Nepal. It has now grown into a network of 2 high-volume hospitals and 8 primary eye care centres and is now called the Eastern Regional Eye Care Programme (EREC-P).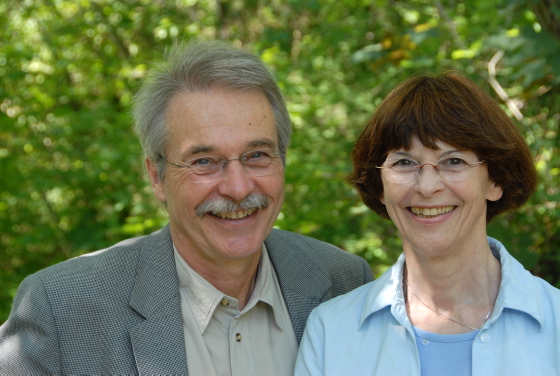 Dr Hennig played a critical role in the growth and impact that EREC-P has on the target populations in Nepal and a few neighbouring states in India. From 1983 till 2011, the programme has provided eye treatment to 3,876,939 patients and performed 874,270 surgeries. The motivated team examines up to 700 outpatients and performs 300-400 surgeries per day during the busy season – a laudable achievement! 
"I feel very much honoured to be nominated as 9GA Eye Health Hero. However, I would like to mention that the good work, which was done in our project throughout the many years, was only possible thanks to the continuous support by CBM and the hard and dedicated work of our whole team." says Dr Hennig.
Dr. Hennig's committed and professional leadership has produced an organizational culture of dedicated, high quality, fair and effective service to all patients. Dr Hennig has performed more than 115,000 cataract surgeries and a large number of cataract surgeries on children. An accomplished ophthalmologist, Dr Hennig is also celebrated for developing a special sutureless cataract surgical operation known as "Fish Hook Technique", which is now widely used around the world.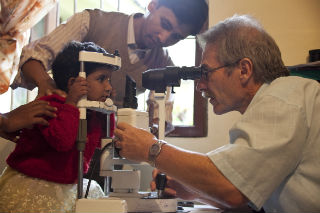 Dr. Hennig's special interest and concern are children in need of surgical attention. In Nepal and parts of India, word has spread that Sagarmatha Choudhary Eye Hospital takes special care of children, offering surgery for low fees or free of cost, and parents travel long distances with their children, sometimes for days, to reach the hospital. With its growing reputation as the go-to place for paediatric ophthalmology, the hospital sometimes sees as many as eight paediatric surgeries per morning!
Under Dr Hennig's warm and expert care shy and diffident children slowly blossom as their vision improves, turning active and talkative by the time they are ready to go home.Seeing this positive change in children and knowing that with their improved vision they will have better chances in life is Dr. Hennig's biggest reward. "Seeing this positive change in children and knowing that with their improved vision they will have better chances in life is my biggest reward, which has kept me going for so many years, although life and work in the remote area of Lahan in Nepal has always been challenging….", says Dr Hennig.
"Dr Hennig has developed low cost, high volume, high quality cataract services for people from Nepal and north India. He has always been ready to accept visiting ophthalmologists and pass on to them not just the surgical techniques but also the efficient management of resources – time and finances. Dr Hennig's dedication and commitment for over 30 years, combined with his excellent surgical skills and teaching are exemplary to us all." says Prof Allen Foster, President, CBM.
---
All IAPB member organisations are encouraged to sponsor their eye health hero to attend the 9GA. At the 9GA, heroes will have the opportunity to meet the world's leading thinkers in prevention of blindness, to survey the systems at L V Prasad Eye Institute, and even participate in one of the ceremonies or gala events.
Help us highlight the many small everyday miracles that make VISION 2020's goals possible; nominate your hero now!