Eye Health Hero: Aravind's Instruments Maintenance Team
Aravind Eye Care System (AECS) is proud to nominate their Instruments Maintenance department in Madurai as AECS' 9GA Eye Health Hero.

The department is renowned for their technical skill and for their training programmes in developing countries in all the seven IAPB regions. Having trained close to 600 technicians in India and in 47 other countries, AECS' Instruments Maintenance department has played a pivotal role in achieving the goals of VISION 2020: The Right to Sight.
Aravind Eye Care System, a group C member of IAPB, began as the Aravind Eye Hospital in 1976. From its humble beginnings as an eleven-bed hospital, AECS has grown to become one of the largest and most respected eye care institutions in the world.
According to WHO, at any time, 50% of medical equipment in developing countries cannot be used for want of maintenance. Critical to the success of VISION 2020's objectives is the need to have well-trained paramedical persons and the maintenance and repair of eye care instruments, to ensure their functioning at all times. The Instruments Maintenance department meets the need of ensuring the presence of well-trained personnel, who are equipped to properly utilise and adequately maintain or repair instruments in underserviced settings.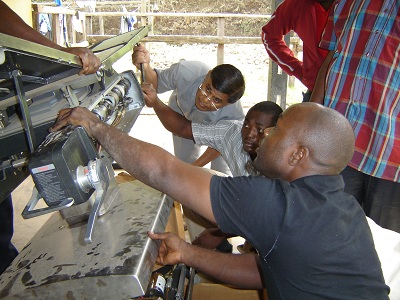 The department runs an intense, short-term training programme with an emphasis on hands-on experience. The programme ensures adequate student-teacher ratios and has received positive feedback from the numerous hospitals across the world who have benefitted from their work.
Technicians from a variety of contexts and eye care settings have received training from the instruments maintenance department. 152 technicians from 36 countries 288 technicians from different states of India have attended courses at the Aravind Eye Hospital in Madurai, India. Teams from the department have also conducted courses and workshops in 11 countries, reaching out to another 201 technicians who attended them. The department also produces a popular DVD on the maintenance of ophthalmic instruments with support from Sightsavers. ORBIS and Right to Sight have also helped translate the DVD into Spanish and French respectively.
The Instruments Maintenance department is headed by Prof. V Srinivasan, a retired professor of Physics with an abiding interest in the care, maintenance and repair of instruments.