Eye Health Hero: Dr Biu Sikivou
The Fred Hollows Foundation New Zealand is proud to nominate as its 9GA Eye Health Hero in the Pacific, Dr Biu Sikivou, Associate Director of the Pacific Eye Institute & Lead Ophthalmologist Diabetes Eye Programme. Dr Sikivou is also The Fred Hollows Foundation NZ representative on The Fred Hollows Foundation Diabetic Retinopathy Working Group.

Founded in 2006 by The Fred Hollows Foundation NZ, the Pacific Eye Institute aims to eliminate avoidable blindness in the Pacific by 2020.
Dr Biu and her team at the Pacific Eye Institute/CWM Hospital Diabetes Eye Clinic have been providing diabetes eye care screening and treatment services in Suva since 2009. Since the service opened, they have initiated a regular schedule of outreach visits to 9 sub-divisional hospital and health clinic locations throughout Central Division. The demand for the service is enormous with a significant and growing number of patients presenting at a young age and with serious disease.
This is also a teaching program, with nurses and doctors from throughout the Pacific Islands region coming through to train in diabetes eye care.
Diabetic retinopathy (DR) is responsible for 4.8% of the 37 million cases of blindness due to eye diseases throughout the world.
The 2009 Fred Hollows Foundation NZ Fiji Eye Health Survey revealed an alarming level of diabetes amongst people aged 40 and over in Fiji. A staggering four out of every ten people screened were found to have diabetes, and more worryingly, a third of these were unaware of their condition. Diabetic eye disease was found to be the third most common cause of low vision in Fiji.
Successive Fiji National Eye Care Strategic Plans, developed in the context of VISION 2020 since 2004, have prioritised activities to reduce blindness due to diabetic retinopathy. The current plan, published early in 2012, acknowledges the contribution of the Pacific Eye Institute in developing human resources for eye care and its positive impact on the provision of disease control interventions.
Sending doctors and nurses for training in diabetes eye care at the Pacific Eye Institute is now a priority in national eye care plans across the region.
Dr Sikivou and her team provide a diabetes screening and treatment programme from 10 locations in the Central Division of Fiji. In addition to the teaching and supervision of doctors and nurses currently training in diabetes eye care at the Pacific Eye Institute, Dr Biu has been providing telemedicine support to graduates outside of Fiji and participating in working groups to develop standards for DR care in the region and to extend the model of DR care established in Fiji's Western and Central Divisions to other locations.
On top of this, Dr Biu has continued to actively contribute to research into diabetes and eye health in Fiji.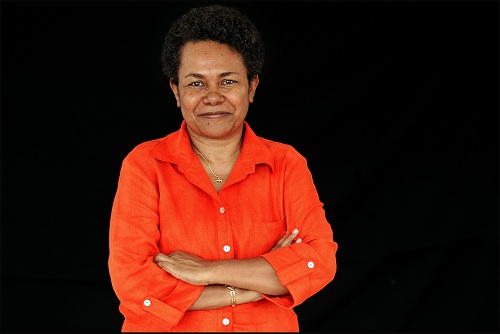 Typically, Dr Biu's working day begins at 7.30am with administration work. At 8am patients arrive for the concurrent photo and laser clinics. While one screener takes care of VA tests, data entry and dilating eyes of patients booked for laser, another takes digital retinal photographs for booked and walk-in patients. A third assists Dr Biu doing laser. On outreach days this workload is undertaken by one screener with the ophthalmologist, as two screeners are needed to manage each busy outreach.
On the return of the outreach team, the data collected has to be synchronised with the server at the Suva clinic. Lunch time may well be spent down the road at the Pacific Eye Institute, in a management or academic team meeting. In the afternoon, the two clinics running are photo screening and a diabetes clinic for the ophthalmologist.
As if this isn't enough, once a week Dr Biu leads the surgical team in general eye surgery in the Pacific Eye Institute/CWM Hospital eye theatre. The main Suva clinic, which is serving between 400-700 outpatients a month, has been operating out of extremely cramped conditions, with no waiting room, in the main building of CWM Hospital since 2009. Fortunately, The Fred Hollows Foundation NZ has been able to secure the support of the Australian and New Zealand Governments to construct a purpose-designed facility connected to the Pacific Eye Institute/CWM Eye Clinic, which will provide patients, staff and students with a much improved environment for their care, work and learning.