Eye Health Hero: Dr. Bon Sool Koo
The Korean Foundation for the Prevention of Blindness (KFPB) is proud to nominate Dr. Bon Sool Koo, ophthalmologist and one of KFPB's founders, as its Eye Health Hero for the IAPB 9th General Assembly.

KFPB has been a major player in preventing blindness and advocating for eye health in South Korea for the past 39 years. Dr. Koo established KFPB in 1973 together with other ophthalmologists and has been instrumental to many of its projects since.
He led the development of the Preschool Vision Screening Programme, which provides approximately 600,000 pre-school children with early vision tests and detection of eye related disease and treatment annually. He established the system of mobile eye examinations and surgery for the elderly living in remote areas, covering tens of thousands of people who were previously out of reach from standard eye health programmes. He also introduced low vision counselling activities at KFPB as part of its low vision care offers.
To this day, at the venerable age of 85, every Friday Dr. Koo still examines patients, provides counselling and supervises optometrist working as low vision rehabilitation staff.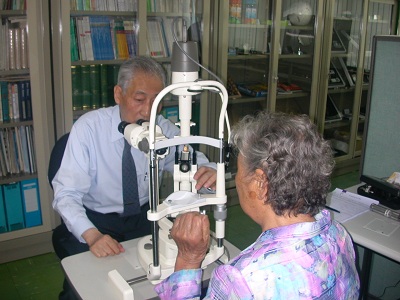 His indefatigable commitment and passion towards eye health has truly made a difference to the lives of many, from early childhood to the elderly, from urban settings to the remotest areas. Dr. Koo has also been a tireless campaigner contributing to the development of the first South Korean national eye health plan in 1985 and constantly promoting eye health issues through his seminars, lectures and activities at World Sight Say.
Dr. Koo has been and continues to be a role model for all his colleagues, patients and friends, not only as a clinician and advocate for eye health, but also by sharing his lessons on life or famous verses of poems.
His passion for prevention of blindness and visual impairment has been outstanding and for this reason KFPB is proud to name Dr. Koo as its Eye Health Hero.