Eye Health Hero: Dr. Greg Pearl
Optometry Giving Sight is pleased to nominate Dr. Greg Pearl as its Eye Health Hero.

Dr. Pearl is on the National Committee of Optometry Giving Sight in the USA; is a member of our Chairman's Club and is the immediate Past President of Volunteer Optometric Services to Humanity (VOSH). VOSH volunteers conduct about 80 week-long campaigns each year to offer about 100,000 free eye exams and eyeglasses primarily to people in Latin America who have no access to optometric care.
Dr. Pearl grew up in upstate New York, attended the University of Oklahoma and received his doctorate from the Southern California College of Optometry in 1983. He lives and practices in suburban Los Angeles.
Dr. Pearl has led or participated on 48 week-long VOSH optometry missions to Venezuela, Costa Rica, Columbia, Peru, El Salvador and Mexico. And while he continues to enjoy introducing optometry students to the challenges of humanitarian service on a couple of VOSH missions each year, his greatest interest now is raising funds to establish sustainable eye clinics and to support optometry schools in developing countries.
To that end, he has been instrumental in encouraging the Board of VOSH International to update their mission to include a commitment "to facilitate the provision and the sustainability of vision care worldwide for people who can neither afford nor obtain such vision care".
In his role as President of VOSH, Dr. Pearl successfully coordinated the establishment of an optometry clinic at Xochicalco University in Tijuana, Mexico that is staffed by final year optometry students (under supervision of qualified local optometrists) to provide low cost services to low income families living in the barrios of Tijuana.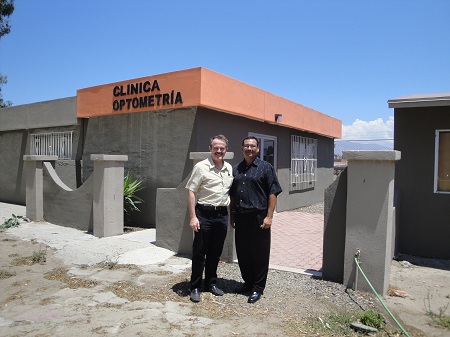 He has worked closely with FUDEM, a local NGO in El Salvador providing advice and support in relation to their mobile outreach programs; is currently leading VOSH efforts to develop a sustainable clinic in Managua, Nicaragua; plays an active role in VOSH's Technology Transfer Program which seeks to provide new and refurbished ophthalmic equipment to Schools of Optometry throughout Latin America; and was part of the Presbyopia Population Study and Pilot Presbyopia Outreach/Referral Screening Program in Nicaragua which was led by Dr. Larry Hookway, a Past-President of VOSH.
Dr. Pearl has also been developing an innovative program called VOSH Corps to encourage new graduates in Optometry to donate their two years of their services as instructors in Regional Schools of Optometry in the developing world.
In his spare time, Greg is also an active volunteer within the USA frequently donating his services at the Los Angeles Free Clinic and on other vision campaigns to provide eye care to disadvantaged and low-income people.
Optometry Giving Sight works in partnership with VOSH International to fund and implement sustainable vision care projects in Latin America.