Eye Health Hero: Dr. Jawwad Ahmad
Since 1995, Aid to Leprosy Patients (ALP), a long-standing partner of Light for the World, is working on Prevention of Blindness and Eye Health. All of its activities are focussed in rural areas of Punjab and Khyber Pakhtoonkhwa (KPK) Province.

Light for the World is proud to nominate ALP's Prevention of Blindness Coordinator, Dr. Jawwad Ahmad, as its Eye Health Hero for the IAPB 9th General Assembly.

At the primary level, ALP engages Leprosy/Ophthalmic Technician (LOTs) in conducting 'Eye Clinics' within Government Health facilities building up a referral system from primary to secondary level.
From 1999, the secondary level work started within the framework of a Public-Private Partnership in the District Headquarter Hospital of a remote District Batgram in KPK Province with the aim to providing available, accessible, and affordable quality eye care services.
Within the Primary component, 603.809 eye consultations were done and 1.637.098 school children have been screened for eye problems in the years 1995-2011. At secondary level, as a consequence of meaningful partnership between all stakeholders and effective promotion of eye health awareness in communities, about 214.756 eye consultations took place and 10.753 cataract surgeries were performed in the years 1999-2011. Targeted efforts have contributed to a remarkable increased uptake of cataract surgery by females. A boost in the local economic activity is quite noticeable. In addition, blind persons have been rehabilitated and socially integrated in communities.
Dr. Ahmad is a committed worker dedicated to the development of ALP's Prevention of Blindness Programme, focussing especially on the comprehensive eye care programme (Public-Private partnership) in District Batgram, KPK Province. He is involved in implementation and program logistics, supervising outreach activities, training of field staff in on-site procedures, case management, data management, customer service and program innovations as they evolve. He is responsible for monitoring/evaluation of the program activities at all levels. He has actively coordinated the emergency response and rehabilitation work after the devastating earthquake in 2005 and the floods in 2010.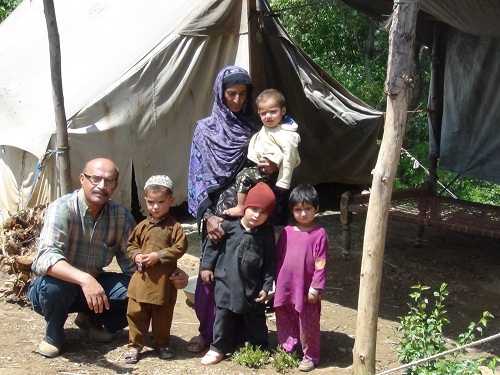 In recent years Pakistan was hit by huge natural disasters, among them the devastating earthquake in 2005 and the enormous floods in 2010. Both dramatic events provide examples of how Dr. Ahmad has made a huge difference for the life of victims and their families.
On 8th October 2005 Dr. Jawwad Ahmad was on a monitoring field visit in Punjab province. Getting a flash bulletin that a massive earthquake had struck northern parts of Pakistan, he instantly contacted his Office in Rawalpindi for details of damage done in Hazara Division of KPK Province, an ALP served area. He immediately headed back to Rawalpindi, chalking out a plan for assistance in an emergency meeting at ALP Office. The next day he left for Hazara Division. What he witnessed was overwhelming. The town of Balakot was in shambles. Wail of the wounded and trapped filled the air. The DHQ Hospital in Batagram was entirely in ruins and the town was gravely afflicted. Emergency medical supplies, tents, quilts, blanket, warm clothes and rations were distributed under the supervision of Dr. Jawwad Ahmad. Unfortunately, due to the difficult terrain in the hills and dreadful cold weather, the relief efforts were awfully hampered. Dr. Jawwad Ahmad organized a field team of local workers who would distribute relief supplies to the quake victims, provide First Aid to the deprived, and transport the wounded, disabled, old, women, and children to the nearest medical camp.
In the following days, an Emergency Field Hospital was put up in District Batgram with the support of Light for the World and Comprehensive Health and Education Forum Intl. (CHEF). A fully-equipped ophthalmic theatre and wards for the eye unit were provided in Containers. The local eye surgeon, Dr. Ghafoor, and Dr. Jawwad worked relentlessly in the bitter cold and chaotic conditions to provide quality eye care services.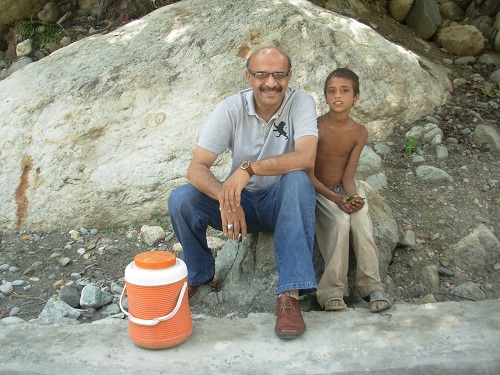 In the second phase, a reconstruction team was organized by Dr. Jawwad Ahmad to work in a participatory way with communities for the construction of 250 houses for victims (widows and persons with disabilities prioritized) and a water supply system.
In August 2010 major floods caused a massive loss of houses, infrastructure and lives in Pakistan. Rural areas were mostly affected. Complete villages were washed away. Women, children and elderly were left without shelter. Likewise to the earthquake six years earlier, Dr. Jawwad Ahmad was tasked with the emergency response and rehabilitation work. In Punjab Province, Dr. Jawwad Ahmad initiated 'Emergency Medical Coverage' in the six most affected districts. Viral conjunctivitis and diarrhea was rampant in the temporary camps set up for the flood affectees. Under the supervision and guidance of Dr. Jawwad Ahmad, ALP technicians visited these camps, examined the people primarily for eye problems and provided medicines. More than 8.000 people were served. In Hazara division, Dr. Jawwad Ahmad focused on reconstruction of homes for the homeless. Under his supervision, the reconstruction team built more than 130 houses.
For these efforts in times of emergency as well as his tireless everyday work to bring eye care to the people of Pakistan, Dr. Jawwad Ahmad is an Eye Health Hero for the Light for the Word.