Eye Health Hero: Dr John Szetu
| | |
| --- | --- |
| IAPB Western Pacific is proud to nominate as its 9GA Eye Health Hero Dr John Szetu, Director of the Pacific Eye Institute and Regional Medical Advisor for The Fred Hollows Foundation NZ. Dr John Szetu has an impressive track record in designing and implementing training courses for eye care nurses and supervising registrars in the Pacific. His successful programs in training and clinical service in Vanuatu and the Solomon Islands are held in high regard throughout the Pacific eye health sector. Prior to establishing the Pacific Eye Institute, Dr Szetu spent five years in Vanuatu implementing a successful national eye health program with the support of The Fred Hollows Foundation NZ. | |
Over the past four years John has been the IAPB Western Pacific Region Co-Chair for the Pacific Islands Sub –Region. During this time his achievements and the support he has provided in the interests of blindness prevention and the development of eye health in the Pacific are to be admired.
IAPB Chair for the Western Pacific region, Richard Le Mesurier, first met John in Honiara, Solomon Islands in 1987. When Richard returned to the Solomon Islands in 1996 he was astounded to see the progress John had made. Ophthalmic Nurses were being trained and deployed across the Provinces. A junior doctor had started his ophthalmology training. The Solomon Islands had the highest CSR in the Pacific Islands area and a model for the future was starting.
Ethnic troubles in 1999 cut this short for a short time until The Fred Hollows Foundation supported John to set up an eye care program in Vanuatu, with similar aims: Providing service delivery; training Mid-Level Ophthalmic Personnel and a junior national doctor to provide continuity in a sustainable fashion. Very quickly similar success was obtained in Vanuatu as had been seen in the Solomon Islands.
The value of John's approach was well demonstrated during the period of ethnic tension in the Solomon Islands – the ophthalmic nurses continued to provide excellent mid-level eye care services across all Provinces and in Honiara throughout those difficult years, when ophthalmologists could only visit sporadically.
John had always advocated strongly for formalizing ophthalmic training, both of doctors and nurses in the Pacific. He realized that more of both cadres were badly needed to cater for the particular needs of the small but scattered populations across the islands. With support from FHF New Zealand, AusAID, NZAID and others, the Pacific Eye Institute was born. It started in Honiara but later moved to a more central location in Fiji. At around the same time John was responsible for the formation of PacEYES and steered the way to stronger professional links with RANZCO and the ICO.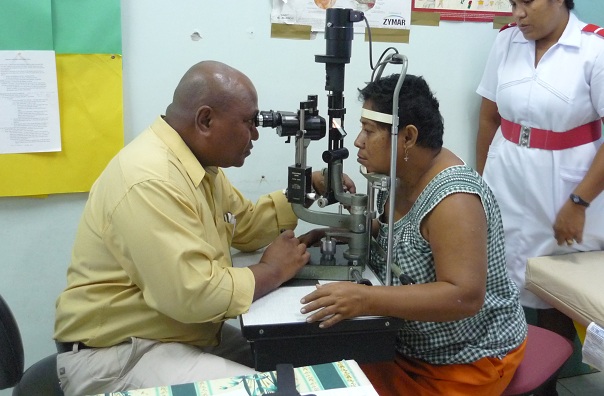 The rest is history. The growth of PEI reflects the respect that John commands amongst his Pacific Island colleagues as well as those from New Zealand and Australia. He has been able to inspire others to realize that, like him, they can stand on their own feet and provide increasingly high quality eye health care and leadership for their own communities.
The Pacific depends less and less on outside visiting eye teams. There is collaboration between PEI and eye health facilities in Tonga, Samoa, Vanuatu, Kiribati and the Solomon Islands. Staff from those countries as well as the Cook Islands, Niue, Nauru and further afield have been and are being trained at PEI. Ophthalmologists from Australia and New Zealand visit both to teach and to learn.
New challenges like that of Diabetic Retinopathy are being met with energy, research and locally appropriate guidelines. Eye Health has widened from an initial focus on cataract to Comprehensive Eye Care.
Over the past 4 years John has ably represented the Pacific Islands as a Co-Chair for IAPB. We are very grateful for all he has done in the Region. Although we are sad to lose him as a Co-Chair, we know that he has prepared his younger colleagues well to follow in his footsteps. He has worked incredibly hard and continues to do so.