Eye Health Hero: Dr Mariano Yee Melgar
| | |
| --- | --- |
| The Seva Foundation is proud to nominate as its 9GA Eye Health Hero Dr Mariano Yee Melgar, Founder and President of the Board of Directors for VISUALIZA. Established in 2002 as a Foundation for the prevention and cure of blindness in Guatemala, today VISUALIZA also provides training and technical assistance as a mentoring institution for several other programmes and NGOs across Central and South America. | |
Borrowing from the Aravind model, VISUALIZA operates a not-for-profit arm and a private services section to ensure financial sustainability. The social services section provides a full range of eye care either for free or heavily subsidized for persons with few resources. VISUALIZA is the first eye care institution of this type in Latin America and was named as a regional demonstration centre by the International Eye Foundation (IEF). VISUALIZA also works closely with IEF and the Seva Foundation's programme on Community Centres of Ophthalmology serving as a mentor institution for organisations and projects in Haiti, Honduras, El Salvador, Peru and Nicaragua.
| | | |
| --- | --- | --- |
| | | Dr. Mariano Yee (far left in the picture) is a surgeon, trainer and visionary in public health. He helped to introduce the use of small incision cataract surgery in Guatemala and the continent. Realizing nearly twenty years ago that cataract was the leading cause of blindness in Guatemala and Latin America, he decided to explore innovative ways to offer affordable surgery for people from all social strata. He started with a two-room private clinic in 2002 and then sought help from the global eye care community to expand operations in order to serve all people, regardless of their ability to pay. He traveled to Aravind Eye Hospital for exposure and training and invited the International Eye Foundation, Seva and CBM to collaborate with VISUALIZA. |
On a typical day Dr. Yee could be heading to morning surgery through the traffic of a major city or walking to the rural clinic in the village of San Benito. Regardless of where he is, many of his days start with a busy surgical schedule, followed by a long day of clinical care and follow-up services.
Besides being a busy surgeon, Mariano travels frequently to many countries to train and advocate for VISUALIZA's sustainable approach to eye care. Despite managing a growing and active organisation, he also serves as the President of the National Commission of Eye Health in Guatemala and is an active member of the Board of Directors of Seva Foundation and Vision for the Poor. His efforts have made an enormous impact on the prevention of blindness in Guatemala and in many other countries.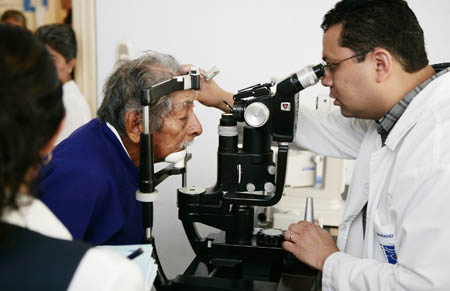 Today VISUALIZA, under Dr. Yee's leadership, employs over 55 people, providing surgery and clinical services to thousands of Guatemalans. Last year VISUALIZA's four surgeons conducted over 20% of the cataract surgeries in the entire country. VISUALIZA's school screening programmes offer the only access to exams and glasses for thousands of children in large parts of the country. During this past year, many of VISUALIZA's community programs have benefitted from the partnership with the TOMS One for One Giving in Sight programme.
The Seva Foundation is proud to nominate Dr. Mariano Yee as its Eye Health Hero.