Eye Health Hero: Dr. Naomi Nsubuga
| | | |
| --- | --- | --- |
| The International Centre for Eyecare Education (ICEE) has nominated Dr. Naomi Nsubuga, OD., ICEE East Africa Sub-regional Manager, as its Eye Health Hero ahead of the IAPB 9th General Assembly. ICEE works worldwide to eliminate avoidable blindness, particulalrly due to uncorrected refractive error. | | |
A household name she may not be, but Dr. Naomi Nsubuga's remarkable determination has impacted upon the lives of more than 150 000 people in East Africa over the last three years. Before her passionate work burnt a bright new path, there were few refractive services available in East Africa. Through Naomi's leadership and grass roots dedication a new era has been created for the region's communities: a total of 92 644 full eye examinations and 66 278 screenings have been conducted to date.n the struggle against avoidable blindness
Coming from a lineage of nurturing women working for change, Naomi's tireless zeal has helped her forge ahead and deepen the footprint in a region desperately needing eye care resources. In Tanzania since 2008, Naomi and her ICEE team have helped open 14 vision centres and trained the optometrists and staff to manage these centres. Nearby in Uganda, Kenya and Ethiopia, she has help train more than 50 health care workers and eye care professionals in either refraction or spectacle cutting skills.
Committed to the long haul, her battle against avoidable blindness and uncorrected refractive error is far from over, but even now her accomplishments tell a story of extraordinary team leadership and dedication to defining a large scale natural approach to sustainable eye care in East Africa.
| | |
| --- | --- |
| | Professor Kovin Naidoo, Africa Chair of the International Agency for the Prevention of Blindness and Global Programmes Director of ICEE, was university classmates with Naomi while studying optometry in the USA during the nineties. "Naomi really does represent the cream of the crop for optometry in East Africa. Her success in up-skilling and implementing eye care services in areas which were previously nonexistent is proof of her unparalleled achievements in developing optometry for this region," said Professor Naidoo. |
Kovin describes Naomi's personal style of leadership as very humble, intensely focused and always with the utmost commitment. "She really isn't one to blow her own trumpet, she isn't a high profile person, and is very community based. Her achievements withstand the test of global eye care needs especially with everything she has achieved in public health," said Professor Naidoo. Naomi was recently elected as the Vice President of the African Council of Optometry, but opted to step down as she wanted to dedicate her time to the ICEE East Africa project.
After graduation, life and work took Kovin and Naomi on different paths but by no coincidence they both found themselves back in Africa working in optometry. Kovin returned to South Africa and Naomi to Uganda instead of remaining in the USA where each had been offered very lucrative jobs. Once in Africa, Kovin was keen to reunite with his friend. Naomi was working for a private practice but admitted she had started to feel like she wasn't doing enough to help the public health sector. "I want to do more with my life," she had openly confessed to Naidoo. After hearing this he offered Naomi the chance to develop the ICEE eye care project for East Africa and spearhead the integration into the public health sector.
These days, Naomi's time is divided between the office in Uganda and travelling across the East African region communicating with partners and building relationships for new and existing ICEE eye care projects. Through these activities, Naomi also strives to develop and strengthen optometry as a profession in the region. She is a tireless proponent advocating action within the private sector addressing the high levels of uncorrected vision impairment and avoidable blindness.
"Thanks to many years of advocacy through ICEE and the local optometry associations, East Africa has only just begun to realise the need and demand for optometrists in vision care. The main challenge we face is a lack of trained personnel and low vision services. Until recently, Tanzania was the only country which recognised optometry. The latest countries to progress in recognising optometry are Ethiopia and Uganda, with Uganda ending the final stage of a long and arduous five year battle."
Due to the expansion of eye health programmes, Naomi is heavily involved with capacity building and human resource development, presenting lectures on refraction and low vision training for health care workers and ophthalmologists. She interacts with students, universities and government departments in the region to develop optometry education courses with private and public stakeholders.
"I believe that the only way forward for eye care in Africa is to generate awareness within the industry, educate students and optometrists on the importance of their work. I mentor young optometrists providing them with a real life context of the greater issues our communities face, this way optometry in East Africa has ambassadors to lead us into the future," Naomi said.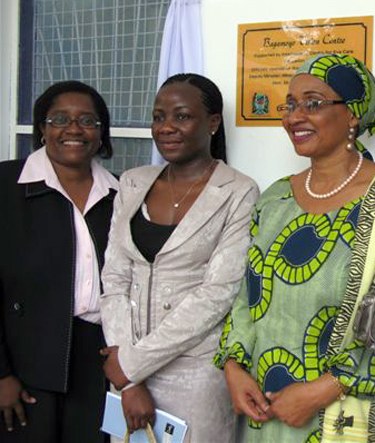 ICEE is proud to name Dr. Naomi Nsubuga as its 9GA Eye Health Hero.