Eye Health Hero: Jared Anekeyah
 

In identifying Jared Anekeyah as an Eye Health Hero, Operation Eyesight Universal has chosen to recognise an individual whose work underlines the foundational role of community development in the struggle against avoidable blindness. Jared Anekeyah has made "a unique contribution to blindness prevention through infrastructure", and has been named as OEU's 9GA Eye Health Hero.
Operation Eyesight Universal works with champions of eyesight throughout India and Africa, and could name several exceptional physicians who have earned great distinction. But in identifying Jared Anekeyah as an Eye Health Hero, Operation Eyesight has chosen to recognise an individual whose work underlines the foundational role of community development in the struggle against avoidable blindness.
Jared Anekeyah is not a medical professional. He has made a unique contribution to blindness prevention through infrastructure – specifically, the provision of clean, reliable water in an arid land that is plagued with trachoma.
Jared lives in Narok, Kenya. He is a hydrologist who serves as a Project Officer for Operation Eyesight's water program in Narok County, where 51 boreholes and other water points were recently completed with the active involvement of communities.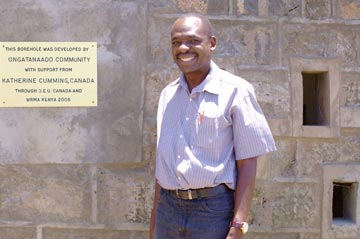 He is also employed by Kenya's Water Resources Management Authority as a manager overseeing the South Rift Valley sub-region. Jared has played a leading role in developing Sub Catchment Management Plans (SCMP) for the entire sub-region with a number of community-based Water Resource Users Associations. These SCMPs are integrated water resources management blueprints for development activities that will be undertaken in the entire sub-region over a period of five years.
Jared is highly skilled at pre-construction methodologies including integrated water resources management, and is an expert in the initiation and implementation of community water projects. But we wish to highlight his brilliance in the formation of community-based associations for the purposes of using water projects as catalysts for other development activities. He has the ability to construct and facilitate cohesive teams, interface with non-governmental organizations and liaise with key stakeholders.
In 2006 Operation Eyesight had renewed its commitment to tackle trachoma in Kenya, and enthusiastically adopted the SAFE strategy as the means to eliminate trachoma in target areas. Up until this point, Operation Eyesight's trachoma efforts were largely focused on treatment through antibiotics and surgery. The time had come to deal with the root problem of personal hygiene, which can only be addressed through the presence of an accessible and reliable source of clean water. In Kenya, that means deep water wells.
When Operation Eyesight initiates any project, it looks for a local partner to work with – one that can make a significant investment and ultimately take ownership. The Government of Kenya welcomed a proposal targeting the Narok District as a trial project, but was unable to offer funding. Instead, it offered technical resources in the form of Jared Anekeyah who was assigned to work with Operation Eyesight.
The village of Ongata Naado was identified as the site of the first water project. Jared understood that the success of a project like this depends on the community taking responsibility for the management and maintenance of the well and everything related to it. In fact, community engagement is critical to long-term sustainability. Jared facilitated Operation Eyesight's relationship with the people of Ongata Naado, and assisted them to create a well management committee. He completed the sighting for the bore hole (which can be quite political) and the technical survey. Once agreements were in place and the bore hole was drilled in February 2007, the committee paid for the pump, diesel generator and other infrastructure. This group of citizens has also taken responsibility for operation and maintenance, as well as for water distribution.
At the heart of the project was a community development plan, based on the fact that in arid regions, the presence of reliable water changes everything. Each village helped by Operation Eyesight works with Jared to develop its own unique community development plan. In the case of Ongata Naado, the plan took this village into the future – today its nomadic citizens have stopped wandering and the once-parched landscape has been transformed with gardens, fruit trees and a new school for hundreds of students. For these people, Jared continues to work with them as their technical advisor on all matters related to water.
There are now 51 water wells and catchment systems established throughout the Narok district, all of it made possible due to Jared's expertise and determination. In 2012, Operation Eyesight's trachoma-elimination work will extend into the West Pokot region of Kenya, and Jared has agreed to participate as a consultant.
He is a quiet and thoughtful individual, but with tremendous resourcefulness and commitment to the local people. He is able to engage the community and help people to solve their own problems in the face of unexpected issues. Jared says the most fulfilling thing he has ever done is working with people of Narok to establish these water points. He sees before him transformed communities, and he takes satisfaction in his contribution to the health and growing prosperity of the district.
Operation Eyesight believes that development is the key to eliminating avoidable blindness, and true development depends on local leadership and local investment to build capacity. This project revealed leadership at the government level sharing its own capacity at the technical level, which in turn increased the capacity of the community to meet its own needs. In truth, a vast wealth of initiative and talent exists throughout sub-Saharan Africa at all levels, and Jared Anekeyah is an excellent example. The support offered by Operation Eyesight has a role to play, but vision for Kenya's future exists among its own people.
Through Jared's work and the work of people like him, incidence of trachoma is on a downward trend with strong likelihood that Kenya will eventually be free of this terrible disease. The availability of water is a major factor in making this possible and, thanks to Jared, Operation Eyesight's work there will soon be done.
Operation Eyesight is proud to name Jared Anekeyah as its 9GA Eye Health Hero.
---
All IAPB member organisations are encouraged to sponsor their eye health hero to attend the 9GA. At the 9GA, heroes will have the opportunity to meet the world's leading thinkers in prevention of blindness, to survey the systems at L V Prasad Eye Institute, and even participate in one of the ceremonies or gala events.
Help us highlight the many small everyday miracles that make VISION 2020's goals possible; nominate your hero now!