IEF's Eye Health Hero: Mr Baha'a Eldin Kamal Sabry
The International Eye Foundation (IEF), a global leader in sustainability programming for eye care institutions, is proud to nominate Mr. Baha'a Eldin Kamal Sabry as its 9GA Eye Health Hero.

Mr. Baha'a is Director of Programs and Sustainability at the Al Noor Magrabi Foundation in Cairo, Egypt. Since the year 2000 when IEF helped develop the sustainability plan for the new Magrabi Low Pay Eye Hospital in Cairo, IEF has been building Al Noor Magrabi's capacity to become a Mentor to other eye hospitals in Egypt.
In 2005, IEF's mentoring process named the Al Noor Magrabi Foundation an "IEF Regional Demonstration Center" providing clinical, management, and sustainability training for eye care teams coming from various districts throughout the country and from other countries in the region.
Mr. Baha'a is responsible for many of Al Noor Magrabi's sustainability initiatives including:
Organizing and participating in the implementation of sustainability plans for government and private hospitals in Egypt.

Supervising and managing a group of Vision Centers run by ophthalmologists in disadvantaged areas.

Managing and organizing the work of several optical shops and workshops manufacturing affordable eye glasses for low-income patients.

Planning, design, management and implementation of the Outreach Medical Caravans Program.

Promoting and publicizing the importance of blindness prevention to encourage sponsors to support eye care for those in need.
Alongside his administrative and supervisory work, Mr. Baha'a also reviews the lists of patients referred for surgery from the outreach caravans and begins the admission processes. He meets new patients in the Low Pay Hospital who cannot afford the cost of care and resolves their issues so they can be treated. He monitors the activities of the Vision Centers, optical shops and workshops to ensure validity of the machinery, stocks of lenses and spectacles, and follows up requests. He is in constant communication with the mentee hospitals to trouble shoot problems that arise. Mr. Baha'a meets with individual donors, foundations, and other stakeholders who sponsor the critical outreach programs that not only drive patients to Al Noor Magrabi supporting sustainability, but ensure that people in underserved areas are reached.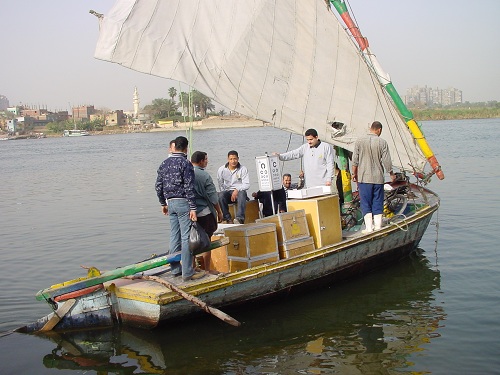 Egypt is a desert country with most of its population living along the great Nile River. Some people live on isolated islands where there is no medical care at all. Under Mr. Baha'a's direction, Outreach Caravans are able to reach these patients, but it is a difficult journey and one which takes tremendous dedication. The Al Noor Magrabi teams include ophthalmologists, nurses, and technicians who load their equipment onto the sleeper train at 8:00 in the evening travelling overnight to Aswan in southern Egypt. Arriving at 8:00 in the morning, the teams load their equipment onto sailboats, the only mode of transport, to reach rural island villages commencing a full 12-hour day of work. Back in Aswan, they board the train for the evening journey to Luxor where they overnight and begin another 12 hours of outreach screening. Then it's back on the sleeper train for the overnight journey back to Cairo.
Many outreach caravans cover great distances overland by bus and run for at least nine hours in a day. The teams insist on taking their modern equipment in order to provide the best care possible for their patients. Their services include screening school students who are deaf and unable to speak. Through sign language translators, they are able to help these students, a most rewarding experience for everyone concerned.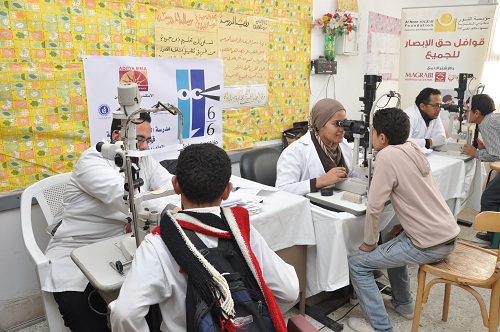 The Al Noor Magrabi Foundation received an IAPB Capacity Building Grant in 2010 to help expand their mentoring role. Al Noor Magrabi's new Egypt Institute for Community Ophthalmology will further the goals of VISION2020 in the EMR Region.
Mr. Baha'a often says "I love what I do and I do what I love! I am so proud to have this incredible experience being part of a team that helps so many thousands of people to regain their sight." He is a hero to IEF and to Al Noor Magrabi for his dedication to the prevention of blindness from the administrative and supervisory level down into the trenches of service delivery. That is why IEF is proud to name Mr. Baha'a Sabry as its 9GA Eye Health Hero.