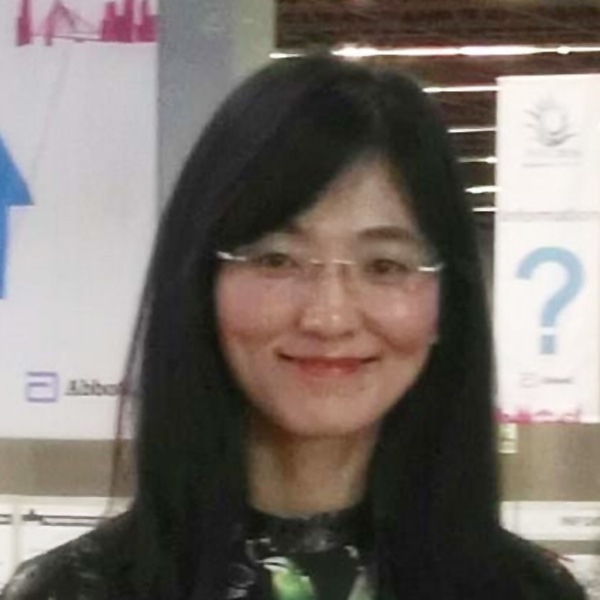 Director of Blindness Prevention Office
He Eye Hospital
Nominated by He Eye Hospital
11 years at He Eye Hospital is more than a job – I'm part of a healthcare system that ensures patients receive the care and support they need. He Eye Hospital has been heavily involved in campaigns to raise awareness about eye health in Liaoning Province. Through the provision of research, education, health promotion and infrastructure support, we have made significant steps towards eliminating avoidable blindness.

My career is one of my most valuable assets in my life. Although I am not an ophthalmologist, I help those in need in my own way. No matter how much impact I can make on others, it's more than enough to keep me going.

— Chunhong Yan
About Chunhong Yan
Ms. Yan has dedicated her career to the development of blindness prevention for over 10 years. She joined He Eye Hospital after graduating from Henan University of Technology in 2005. In her continuing education, Yan has completed extensive training in India certifying her in eye care project management and hospital management. Ms. Yan successively earned a Post-graduate Diploma in Community Eye Health from The University of Cape Town in 2015.
Between 2005 and 2007, as the International Project Manager of He Eye Hospital, Ms. Yan was mainly responsible for introducing international resources, maintaining public relations, designing, managing and evaluating projects in blindness prevention. During her tenure, over 20 projects were successfully operated and highly praised by the world-class partners, such as Orbis International and CBM.
Ms. Yan is currently the Director of Blindness Prevention Office, He Eye Hospital. She has been playing a leading role in a great number of major international projects, including the Flying Eye Hospital Project which was carried out in cooperation with Orbis International, the Construction of National Training Base for Blindness Prevention and Treatment Project, Science and Technology Program for Public Wellbeing – Shenyang Diabetic Eye Diseases Prevention and Treatment Integrated Demonstration, "Vision First China Action" Phase III Project and so on. In October 2015, Ms. Yan actively participated in organizing the "Vision for Vision" session, which is an important section of Grand Challenges Annual Meeting hosted by Bill & Melinda Gates Foundation and co-hosted by Ministry of Science & Technology of P.R.C. Over 50 national and international PBL officers, leaders, scientists and experts were invited and shared their opinions. Desired outcomes were achieved. Both Bill & Melinda Gates Foundation and Ministry of Science & Technology spoke highly of this meeting.
As the main Project Manager of Vision 2020 Liaoning Provincial Office and National Training Base for PBL, Ms. Yan planned and organized several PBL projects which provided the theoretical support to the planning of blindness prevention in Liaoning Province and even China. Besides, she set up the course of Public Health for Eye Care in He University with the purpose of cultivating and preparing future talents for PBL with both innovative and practical abilities. She is also a university lecturer training potential ophthalmologists and optometrists. In addition to her responsibilities, Ms. Yan was active in the community serving as the Secretary & Treasurer of the Lions Club Shenyang between 2006 and 2009, and she is currently an member of Chinese Non-government Medical Institutions Association Ophthalmology Committee.