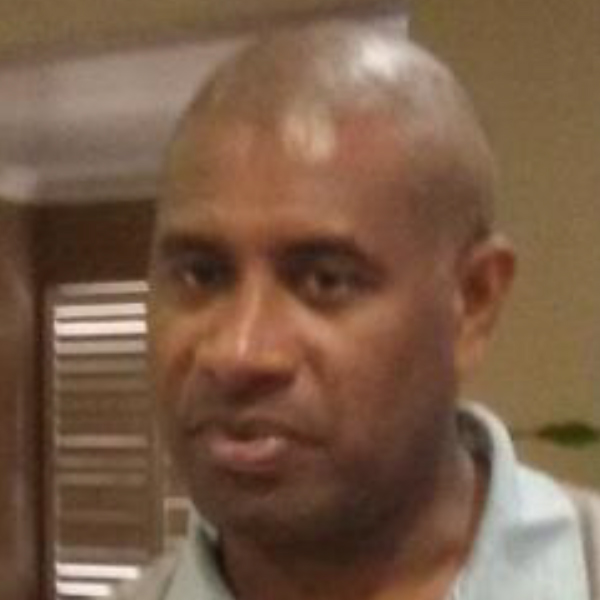 Ophthalmologist
National Department of Health/Boram General Hospital, Wewak East Sepik Province
Nominated by Fred Hollows Foundation-PNG
Caring for people and giving them another chance to see again. First as a human being I believe it is our responsibility to care for each other, since I have the privilege of being the care giver I will do it to the best of my ability. — Dr David Pahau
About Dr David Pahau
Dr David Pahau from Papua New Guinea (PNG) has been the only ophthalmologist in his province for the last 7 years. There are a total of 14 Ophthalmologists in the country with about 8 who are practising ophthalmology actively and 5 registrars in training. It is estimated that Dr Pahau has performed over a thousand cataract surgeries in the most isolated and remote places in PNG, more than any other ophthalmologist in the country.
In PNG almost 80% of people live in rural areas. Public health services are difficult to access due to the lack of road infrastructure and high transport costs. Thanks to the presence of various NGOs such as Fred Hollows Foundation NZ, CBM, Brien Holden Vision Institute, Callan Services and visiting Australian teams to mention a few, eye care work is receiving crucial support: a National Prevention of Blindness Committee is now in place and an eye care plan for the country has been submitted to the Government. The challenge to build a sustainable eye health workforce locally is still crucial though.
Dr Pahau completed his medical school from the University of PNG and graduated as a resident doctor in 1998, completing his Post Graduate Masters training in Ophthalmology in 2008. Since then Dr Pahau has been working for prevention of blindness activities in the East Sepik Province in Momase Region. Alongside his clinical responsibilities, Dr Pahau has been actively involved in building the eye care capacity of the country by training ophthalmic midlevel personnel, as well as organising symposia and advocacy activities for prevention of avoidable blindness throughout the country. He has also been an active member of the National Prevention of Blindness Committee for the last several years and even been involved in surgical outreach programmes in other countries in the Pacific Region.
Without the tireless work of local professionals like Dr. Pahau, bringing much needed eye care services to people in rural areas across PNG would be a huge challenge for international organisations. It is for this reason that Fred Hollows NZ wishes to celebrate Dr Pahau as its Eye Health Hero.