Developer of prosthetic device for Ambustial Corneal Leukomas
The S.N. Fyodorov "Eye Microsurgery" Federal State Institution
Nominated by The S.N. Fyodorov "Eye Microsurgery" Federal State Institution
First of all, I would like to honour the memory of Professor Fyodorov – the outstanding surgeon, inventor and leader, the pioneer of refractive surgery, the founder of "Eye Microsurgery" Federal State Institution. I was lucky to be his student and then coworker, and to learn with him. I like to remember the time I spent for planning, organazing and actual creating of polyclinic institutions in Syria. It was a heavy load of work, but everyone envolved in it was enthusiastic because it is a universal importance to help people living there. I am happy to serve people helping them regain their vision. Its an inexpressible inspiration – to see how blind person starts to see the world again. It is the biggest award for every ophthalmologist. — Dr Viktor K. Zuev
About Dr Viktor K. Zuev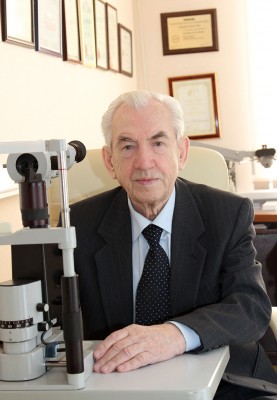 Viktor K. Zuev (PhD, professor, Doctor of Science) heads the Department of Cataract Surgery and Intraocular Correction in the S.N.Fyodorov "Eye Microsurgery" Federal State Institution of Ministry of Health of Russian Federation. Viktor K. Zuev is a doctor of higher category, the academician of the Academy of Medical and Technical Sciences.
In 1973 Professor Zuev upheld a PhD dissertation with thesis on "Prosthetics of Ambustial Corneal Leukomas". Later in 1996 he received Doctor of Science degree with thesis on "Contemporary Aspects of Surgical Management of Severe Myopia". Viktor K. Zuev was awarded the academic degree of professor in eye disorders in 2002. Viktor K. Zuev is also an honorary member of the Society of Cataract and Refractive Surgeons.
Viktor K. Zuev was a student and coworker of Svyatoslav Fyodorov. Under Fyodorov's guidance he developed innovative techniques of management of eye disorders such as prosthetics of ambustial corneal leukomas, for which he obtained his first patent in 1973. This invention is still considered as one of the best prototypes of keratoprostheses in the world.
Another magnificent invention of Viktor K. Zuev is the phakic IOL for intraocular correction of severe myopia patented both in Russia and the USA in 1987 and "reverse" IOL after crystalline lens removal. Patent for this lens was acquired by STAAR Company and this lens is still in production and is well known to ophthalmologists as ICL. This lens became integral to refractive surgery and made a true revolution in ophthalmology. Tens of thousands of patients all over the world gained perfect vision due to this invention by Dr. Zuev.
Since December 1980 up to now Viktor K. Zuev has been directing the department in "Eye Microsurgery" institution. Professor Zuev is a modest, responsive, and reliable leader having deep knowledge and managing skills. He created a unique scientific school with outstanding supervising style allowing each student to fully develop his potential and creative thinking. His devotion and enthusiasm inspire colleagues and students and generate limitless trust in patients.
Professor Zuev participated in opening of polyclinic institutions in low-income areas of Syria and UAE; worked in Syria, UAE, India and USA as well as on a special hospital ship furnished with medical equipment in Mediterranean.
Viktor K. Zuev authored more than 250 scientific articles, monograph, 69 patents (8 of which are international). Under his supervision there were successfully upheld 8 PhD and 2 Doctor of Science theses. Viktor K. Zuev was decorated with the Order of the Badge of Honor, the "Veteran of Labor" medal, the Yu. Gagarin medal for healing soldiers and officers of the Baikonur Cosmodrome, the "850 years of Moscow" medal and the "Exemplary public health worker" badge. The "For active work in All-Soviet Union Society of Inventors" awarded Professor Zuev with the S. Fyodorov Prize in Medicine "For Noble Thoughts and Worthy Deeds". Viktor K. Zuev was included into encyclopedia "Best People of Russia 2005".