The Brien Holden Vision Institute applauds Dr. Ebri's efforts as a tireless campaigner for eye health in West Africa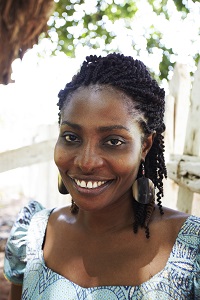 If there was anyone who represents the pioneering ethos of an eye health leader, Dr. Anne Ebri would be it. Her tireless campaigning for eye health recognition in African countries has resulted in huge strides in the fight against vision impairment and avoidable blindness in Africa.
Anne is the Sub-Regional Manager for West Africa at the Public Health Division of the Brien Holden Vision Institute and she fulfills exactly what an eye health leader should be: someone who understands the issues affecting eye health locally and globally; someone who has the ability to communicate possible solutions to those who make the decisions; and someone who is able to implement the change desperately needed.
"Anne is an asset to the Brien Holden Vision Institute and to the people of Africa," said Professor Kovin Naidoo, Africa Chair of the International Agency for the Prevention of Blindness and Global Programs Director at the Brien Holden Vision Institute. "Her ability to advocate to governments the importance of eye health on the national agenda, her ability to identify appropriate structures, systems and individuals to sustain change and especially her ability to act as a catalyst and facilitator to implement the desired change has earned her immense respect in eye health circles," he said.
This is especially evident in Anne's native Nigeria, where a few years ago in 2006 only three vision centres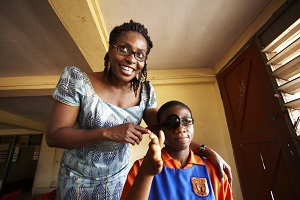 provided rudimentary low vision care to patients in need. With a population of 170 million and a land mass of over 900,000 sq km, it is a massive challenge to provide local access to services as people in need of low vision care in so many locations had to travel for two to three days to reach these centres.
"Although government had engaged at least one optometrist in each of its 42 tertiary eye departments, the skills to practice efficiently were not available," explained Anne. "However, after identifying the huge need and through high level advocacy and negotiation, the government accepted and funded training in low vision care. For five years they continued to send staff to acquire skills and further trained fellow clinicians to sustain service. It was a fantastic result," she said.
A similar impact of Anne's consistent campaigning through advocacy had a positive effect in the Federal Capital Territory (FCT) in Abuja. "Through ongoing relations with government, the first ever budget was created for eye care to supplement the established health program. This enabled partners to supplement the capacity development of community based workers and helped solve the problems often caused by trained personnel transferring from project areas," explained Anne. "The government was also able to fund training of their public health staff to enable capacity building of eye health activities in FCT," she said.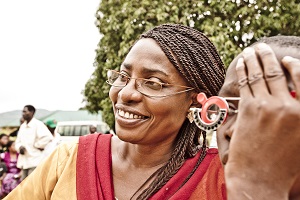 In Nigeria the recognition of optical technicians and the creations of posts in the government sector is still in development, however this is a outcome Anne hopes will progress in the near future. She believes through her on-going discussions and support by the provision of optical workshop equipment, that it will be possible to negotiate with the Nigerian Government to engage technicians where required and send staff for training to acquire the extra skills needed.
Anne has made a similarly big impact in Ghana, where the majority of practicing optometrists were in private sector, and only a handful were employed by the government. Although the program for Child Eye Health (CEH) had identified uncorrected refractive error as a major cause of visual impairment, optometrists could not be engaged due to the lack of refraction equipment. Through advocacy, a workshop on CEH was organised in conjunction with the National Eye Care Program to develop action plans. Due to Anne's diligence through discussions, the forum provided an enabling environment for productive outcomes.
"Due to the support of the Institute providing full refraction equipment and a seed stock of optical supplies, the optometrists and optical technicians are now being engaged in the government sector in Ghana and deployed to communities identified in greatest need," said Anne.
"Anne's achievements have been phenomenal," said Professor Kovin Naidoo. "Her commitment to eye health has resulted in changes at the national government level. This bears testimony to her leadership abilities. She is unequivocally an outstanding role model as an eye health leader. We applaud her success," he concluded.