Vision Care celebrates the medical skills and sustainable approach of Dr. Dong-hae Kim

"I just want to give them a chance to see again," said Dr. Dong-hae Kim, when the reporter from Korean newscast asked why he has put so much time, effort and money in providing cataract surgeries for patients in other countries. I met him in 2007, for the first time at Vision Care Ethiopia Eye Camp, a short-term medical trip to Ethiopia. Since then, he has been faithfully working for the patients who suffer from avoidable blindness. In 2011, he was also awarded the Outstanding Service in Prevention of Blindness Award by Asia-Pacific Academy of Ophthalmology for treating about 60,000 patients at no cost. Dr. Kim is good at collaborating, focuses on sustainability, and is renowned for excellence in cataract operation. Therefore, I think Dr. Kim deserves to be a true Eye Health Leader for preventing and eliminating avoidable blindness.
Dr. Kim has worked in more than 29 countries since 2001 including Pakistan, Mongolia, Ethiopia, Myanmar, China, Sri Lanka, Vietnam and Morocco. He has constantly demonstrated his ability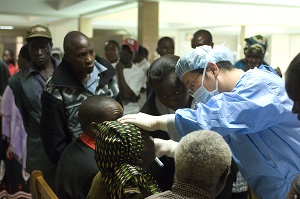 to collaborate with doctors and leaders across different cultures and to lead by example through his dedication in blindness prevention.
Dr. Dong-hae Kim focuses on sustainability. He feels responsible for supporting the local eye clinic over time and consistently developing local eye care resources. In Ethiopia, for example, he not only conducted school eye health screening activities, but ensured high quality training was provided to lcal staff and practitioners, particularly in cataract operations.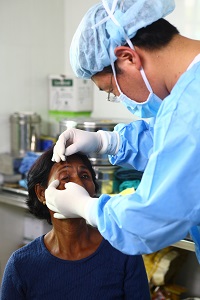 He also established Eye Centers in Mongolia and Pakistan, with the latter now fully self-sustaining following 10 years of support from Vision Care. Regardless of the challenges at the outset, Dr. Kim always takes the long-term view of ensuring all his projects will ultimately be able to sustain long term eye care to the local population.
Dr. Dong-hae Kim is a renowned ophthalmologist whose specialty is cataract operation. Through his work in many different countries over 10 years, he has learned how to handle even extreme cases with skill and dedication. Also, as a head doctor at his clinic, St. Mary's Eye Clinic in Seoul, South Korea, he has honed his skills for treating eye diseases. Dr. Dong-hae Kim is also striving to research and study more about Public Health Service in order to direct Vision Care (which he founded and is currently its Director) in the most efficient and effective way.
I, Dr. Fikru Melka, Head Ophthalmologist, Ras Desta Hospital, Ethiopia and Vision Care, Ethiopia branch, am honored to nominate Dr. Dong-hae Kim as Vision Care's Eye Health Leader. His ability to harmonize, develop sustainable care, and operate cataract skillfully does not represent the whole of him. I truly admire him as a colleague and for all his dedication in preventing and eliminating avoidable blindness.