The Kilimanjaro Centre for Community Ophthalmology (KCCO) praises the leadership, partnership-building and educational skills of Mr. Eliah
Edson Eliah has become an outstanding leader in eye health in Africa through his work with KCCO. He joined KCCO in 2005 to take up a very challenging role as the 'Sustainability Planner'. In this role, Mr. Eliah has needed to engage with and gain the trust of a wide range of eye care programmes and professionals in very diverse settings and multiple countries in Africa. Through this trust, he has facilitated very demanding processes whereby health professionals systematically and critically evaluate their assumptions regarding their professional roles and work behaviour and the functioning of their programmes. Moreover, they needed to fundamentally change their way of thinking about and attitudes toward eye health, community relationships and population need. Over and over again, Mr Eliah has led effective change processes and many of the programmes have become models for eye care locally and in over 20 countries in Africa.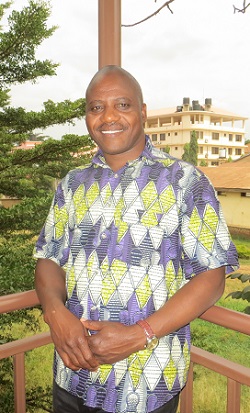 Mr Eliah's leadership involves developing and integrating a wide range of eye programme dimensions and activities. Establishing a typical eye care programme (following the VISION 2020 model) requires assessment of population needs as well as current eye programme facilities and activities. It then involves an extensive programme planning process that includes putting in place management information systems and mentoring individuals. Most of these programmes have led to a three or four-fold increase in service delivery to populations in greatest need, particularly women and girls.
Mr. Eliah is a proficient educator with a wide range of experience both in developing and providing training courses. He assisted KCCO to develop and run its management courses in VISION 2020 in Africa. Mr. Eliah has also been actively involved in designing and providing a 'bridging strategy' course since 2005. This course brings together clinical and management personnel to design and plan community outreach programs. To date, more than 130 programme managers and heads of departments in various countries have benefited from these courses. Perhaps the greatest demonstration of Mr. Eliah's educational skills is that numerous programs in Africa invite him to their institutions over and over again to mentor their VISION 2020 programmes and to train their programme staff. The time away from home and the effort involved in dealing with these diverse demands demonstrates his commitment to improving eye care for people in greatest need in Africa.
In 2011 Mr. Eliah became the KCCO Deputy Director, effectively supervising KCCO activities for the 6 months that Drs. Lewallen and Courtright were on sabbatical in the US. In June 2012, he oversaw KCCO through a challenging time which involved considerable changes in organisational structure, as well as a move toward a global identity that resulted in the establishment of KCCO Tanzania and KCCO International, South Africa. Mr. Eliah's stalwart, discerning leadership kept the staff members united as they moved forward through uncertainty and made adjustments.
Mr Eliah used the opportunity for KCCO to reinforce the strong partnerships it had cultivated over the years and to reinforce its dedication to improve eye care in Africa through public health approaches. He supervises all of the KCCO staff based in Tanzania.
In this role as Deputy Director Mr. Eliah utilises his background in economics and education to continually bring key insights to the field of ophthalmology to strengthen his sustained interest in eye care throughout the years. KCCO Tanzania continues to thrive today under his management.
Based on the foregoing, I am privileged to present Edson Eliah as a nominee to join IAPB's new generation of recognised eye health leaders. With his demonstrated abilities, effective leadership, and staunch commitment to eye care, he is no doubt one of the frontrunners in global eye care today.