Lions Clubs International Foundation celebrates Dr. Foureaux's dedication to improving access to eye care in his own community
Being an "Eye Health Leader" can mean many different things. It can mean conducting peer-reviewed research and presenting at poster sessions and symposia. It can mean taking a leadership role in national and international organizations dedicated to ophthalmology. It can mean being a professor at a university and training new generations of ophthalmologists. Or, it can also mean dedicating your life's work to improving access to eye care for the poorest of the poor, within your own community.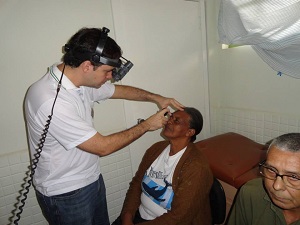 Dr. Emílio Castellar Macedo Foureaux of Minas Gerais, Brazil embodies the latter two examples of an "Eye Health Leader". After earning his Doctorate in Ophthalmology from the Ophthalmology Center of Minas Gerais in 2005 and completing his subspecialty in retina and uveitis at the Federal University of Minas Gerais in 2008, Dr. Macedo Foureaux joined his mother and father at their clinic. Within two years, he transformed their small, private practice into what is now known as the Nucleo de Olhos, a burgeoning community eye health center. The clinic provides 1,000 primary consults, 450 fluorescent retinography exams, 1,600 diabetic retinopathy laser applications, 600 glaucoma treatments, and 100 cornea treatments per month to public health patients and the uninsured.
Dr. Macedo Foureaux and his team provide twice yearly monitoring of the eye health of 1,200 patients with chronic diabetes. This allows for timely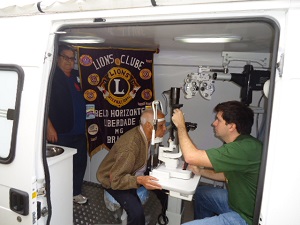 detection of diabetic retinopathy and treatment when needed. Any patient whose Unified Health System coverage runs out before treatment is complete or is uninsured is covered by the fundraising efforts of Dr. Macedo Foureaux and his team. In order to better serve those who live in remote areas or who are unable to leave their homes, in 2012 Dr. Macedo Foureaux and his team created a mobile ophthalmological clinic. The clinic currently provides comprehensive eye exams, glaucoma treatments, and is in the process of acquiring a portable laser to treat diabetic retinopathy. Additional community outreach activities include voluntary participation in two Lions SightFirst Diabetic Retinopathy screening and treatment projects. Through these projects, Dr. Macedo Foureaux and his wife have screened over 1,859 diabetic patients.
Dr. Macedo Foureaux served as visiting professor of cataract surgery at the Hilton Rocha Foundation from 2008 to 2011 and at the Center of Ophthalmology of Minas Gerais from 2010 to 2012. Since 2011, he has voluntarily served as professor of cataract and uveitis at the Department of Uveitis of the Federal University of Minas Gerais, operating some of the most complicated cases seen at the university. Dr. Macedo Foureaux has operated over 4,000 cataract cases since 2008.
Successfully mentoring new ophthalmologists while simultaneously running a community eye clinic and a mobile clinic, and participating in volunteer eye care programs requires an extraordinary level of coordination and dedication to the field of ophthalmology. By creating eye care services for the poor where no resources were available, Dr. Macedo Foureaux has demonstrated resourcefulness, tenacity, perseverance, and passion. These are all qualities that an "Eye Health Leader" should embody. While working at the grass-roots level, within the next ten years we foresee Dr. Macedo Foureaux having a great impact on the development of accessible eye care in Minas Geras, Brazil, from the ground up.
For all these reasons and more, we nominate Dr. Emílio Castellar Macedo Foureaux as an "Eye Health Leader".