CBM pays homage to Dr. Ngounou's dedication, committment and ability to build partnerships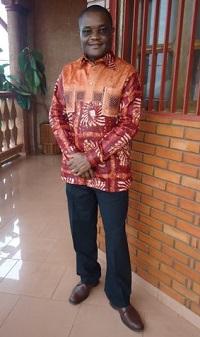 Dr Faustin Ngounou, an ophthalmologist, is the Medical Officer in Charge of the Presbyterian eye services that operates two eye hospitals and a network of over 20 satellite eye units in Cameroon. Dr Ngounou is a Cameroonian born in 1965. He completed his medical studies in the University of Leipzig, Germany in 1993. His desire was to return and work in Cameroon so he decided to move to Nairobi in 1994 and study ophthalmology in an African setting so as to be able to face the contextual realities upon return to Cameroon. He finished his training in 1998 and returned to Cameroon were he joined the Presbyterian Church in Cameroon (PCC). In 2005 he took over leadership of the PCC eye services. In this role his responsibility has been to ensure orientation and strategic direction for the PCC eye services in Cameroon. Since 2005 he has exercised this role with tact, efficiency and effectiveness. The fruits have been the development of new partnerships to support expansion of the eye services in Cameroon as well as ensure improvement in the quality of services at all levels. The results have been a steady increase in service uptake both in consultations and surgeries and a remarkable improvement in income generation in the hospital that is now able to cover for most of its operational costs.
With his leadership, the PCC eye services in Bafoussam got accreditation as a training institution of the West African College of Surgeons(WACS) : many ophthalmologist trainees of this institution have had the opportunity to make their first steps and/or improve in surgery and acquire more skills in clinical eye work here.
Partnership has also been developed with the University of Mainz in Germany through personal contacts with professor Preussner. This partnership has greatly helped to improve patient care in several areas. One that stands out is the introduction of a new method of management of Glaucoma by controlled Laser photocoagulation with a machine that was donated and is being used in Bafoussam and Douala. A publication on this was made in Greafes Archives of Clinical and Experimental Ophthalmology. Through this partnership, lots of research work in eye health has been initiated with the involvement of medical students from University of Mainz coming to Bafoussam for their Doctorate degree thesis and to support the hospital in clinical work. This partnership has also helped improve the clinical capacities of eye care workers in the center which is now capable of offering high-tech services like phacoemulsification for cataract surgery.
Partnership has also been developed with Lions Club Bavaria South Germany and Rotary Club Germany for the sponsorship of training of staff to curb the shortage of ophthalmologists in the project. Through collaboration with the London School of Hygiene and Tropical Medicine, Acha was chosen as one of the institution for a multicentered study on : Improving the quality of cataract services in low income countries: monitoring clinical outcome, safety and patients experience.
Since then cataract surgery audit is done systematically in Douala and Bafoussam. This has greatly improved quality of surgery and patients' satisfaction and uptake for cataract surgery.
He has also developed a partnership with Right To Sight (Ireland) for Capacity building of personnel to improve efficiency and quality of services. Through this partnership also, a proposal was developed for a Seeing is Believing grant that was approved and has greatly helped in equipping the Douala eye clinic, and subsidizing cataract surgery for poor patients.
As medical Director since 2005, he initiated the construction of a new eye hospital in Douala, now the major eye care provider in Cameroon. This eye unit now sees an average of 150 patients daily and does over 2,500 cataract surgeries annually. He plays a supervisory role and coaching of new staff posted to this unit and sometimes assists with clinical work during outreach. With the increasing temptations to go private and make more money, he has remained committed to the PCC as a way of serving the masses and improving sustainability of programs.
Dr Faustin Ngounou is also the CBM medical adviser for AFC and in this role he has been involved with technical assessments of CBM supported projects in the region as well as providing ongoing technical advice of medical eye issues to the regional office staff.
The PCC eye services have been supported by CBM since 1979 and CBM support has continued during his leadership but because of the improved sustainability measures during his leadership, CBM support is now more technical than financial.
He has authored many posters and made presentations at ophthalmology conferences in Cameroon and abroad.