Ver Bien Para Aprender Mejor praises the vision, heart and hard work of Jorge Machado, its General Manager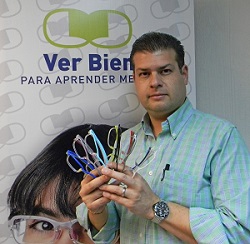 In only four years as General Director of the Ver Bien Para Aprender Mejor (See Well to Learn Better) programme, Jorge Machado has made it one the most recognized education and health initiatives in Mexico.
At the beginning of his term (2009), the Ver Bien para Aprender Mejor Foundation examined 250,000 children and donated 120,000 pairs of eyeglasses in 16 states of Mexico over a school-year. At the end of the past school-year (September, 2012 to July, 2013) the number of children treated went up to 600,000 and 260,000 eyeglasses were donated in 30 different states.
Today, the program has a team of 55 experts optometrists who travel around the country providing high quality optometric care to children in public schools and has formed a Medical Council with the participation of the most recognized optometrists, ophthalmologists and directors of hospitals and universities providing invaluable professional advise to Jorge and the program.
Since 2008 the program had the ambition of having its own line of frames specifically designed for Mexican children. Jorge made that possible and today we are very proud to be the only program in the world that has its very own frames' design, which had since received many praises and accolades internationally.
These achievements did not make Jorge complacent though, but instead he has continued working very hard and in 2013 succeeded to sign an agreement with the Mexico's government for screening and providing optometric assistance to all public elementary school children in the country, and to donate eyeglasses to all those who need them. This single action will double the number of children reached by the program as well as the donated lenses, benefiting 570,000 children in the next school-year and a similar amount on the later cycles.
With the vision, heart and hard work of Jorge, Ver Bien para Aprender Mejor will be an even better Foundation in the years to come and many more children will benefit.
Ver Bien para Aprender Mejor is a private program of the civil society which works alongside both federal and state governments to donate glasses to elementary school children in Mexico.