Child Sight Foundation celebrates the pioneering achievements of Dr. Muhit, ophthalmologist and researcher

Dr Muhit is a highly motivated and visionary leader in the field of public health ophthalmology. His leadership was instrumental in developing and guiding the largest childhood cataract campaign anywhere in the world (Bangladesh Childhood Cataract campaign 2004-2009). This campaign identified over 12,000 cataract blind children and provided free sight restoring cataract surgery for over 10,000 blind children. Dr Muhit contributed by providing the baseline research data, by conducting advocacy workshops with policy makers and by designing the program working with two international eye care NGO (Sightsavers and ORBIS) and the Government of Bangladesh. He also developed the main case finding method for this campaign – the Key Informant Method.
Dr. Muhit is an ophthalmologist and a public eye health expert. He was trained in Bangladesh and England and has a PhD in public health ophthalmology from the London School of Hygiene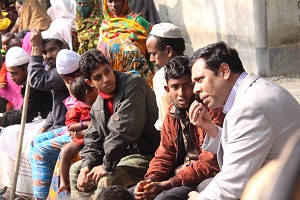 & Tropical Medicine. Dr Muhit worked as an academic and researcher in community eye health for the last 13 years in various institutes including UCL Institute of Ophthalmology London, International Centre for Eye Health (ICEH), and more recently at the University of South Asia. During his academic career he has taught and trained over 300 ophthalmologists, eye care managers and researchers from over 80 countries around the world. Dr Muhit has also been involved in various large scale research programs on community eye health including Rapid Assessment of Avoidable blindness (RAAB) studies, Key informant method and childhood blindness studies in Bangladesh, Nepal, Iran, India, Sudan and other countries. At present he is a visiting faculty of London School of Hygiene and Tropical Medicine, Honorary Executive Director of Child Sight Foundation, Bangladesh, Chairman of Wahida & Matin memorial CSF eye hospital and Pro vice chancellor of University of South Asia.
In the past 13 years, his tireless efforts to eliminate avoidable childhood blindness globally and in Bangladesh has been widely recognised. His leadership was also instrumental in the design and implementation of the first national child blindness study in Bangladesh which involved nearly 2,000 blind children. Building on his research experience, Dr. Muhit in 2004 undertook pilot projects to evaluate the efficacy of 'Key Informant Method' of identification of children with blindness. 'Key Informant Method' of survey differs from 'House to House' method of survey.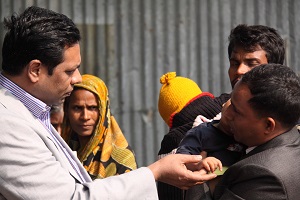 The project tested whether community level volunteers can be trained to effectively identify children with specific impairments and if so whether this process can be used to assess prevalence and plan appropriate referral services for children with impairments. Motivated by his research findings Dr. Muhit recognized that there was a need for a platform to deliver public eye health care services.
In the year 2000, under Dr Muhit's leadership, a group of ophthalmologists, social workers, local businessmen and public health experts initiated the 'Child Sight Foundation (CSF)' – a National NGO focusing on childhood blindness and disability.
CSF works with children, families, and communities; service providers; and program planners to eliminate preventable and treatable cases of child blindness and to establish a rights based enabling environment for visually impaired and blind children throughout Bangladesh and globally.
Since its inception, CSF has grown into a 75 staff organization. Under the guidance of Dr. Muhit, CSF has trained 23,000 volunteers to identify and refer children in need of treatment, identified 25,000 children who suffered from visual impairment in 42 districts and provided them with treatment, restored the eyesight of 7,500 children through cataract surgery, supplied 10,000 children with glasses or other visual aids and provided home-based rehabilitation and inclusive education to 450 children with visual impairment.
In 2008, observing the acute need for the provision of free and low cost eye treatment specially for children, Dr. Muhit founded the Wahid & Matin memorial CSF Eye Hospital specially for the children. This hospital provides free and low cost eye treatment and has provided 2,000 children with cataract surgery, as well as thousands of adult with cataract surgery and other eye treatments.
Dr. Muhit has given over 100 lectures and published over 20 scientific papers in internationally acclaimed journals and many scientific abstracts for international conferences and seminars.
In 2007 in recognition of his invaluable contribution to eradicate preventable blindness in Asia and internationally, he was awarded the Distinguished Services Award by the Asia Pacific Academy of ophthalmology (APAO) and received the Gold Medal from the Ophthalmological Society of Bangladesh (OSB) for enormous contribution to eliminate childhood blindness in Bangladesh in 2010.