Vision 2020 Australia praises the many qualities of Sophie Plumridge, from advocacy at global level to local implementation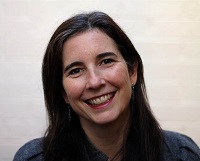 Sophie Plumridge started with Vision 2020 Australia in July 2008. She initially joined the organisation as the Executive Officer and has since held two other senior positions – Director National Policy and Programs and Director Global Policy and Programs.
Since beginning at Vision 2020 Australia Sophie has been part of the Executive leadership team. She brought a wealth of management and leadership experience to the organisation being previously part of the senior leadership team at World Vision Australia in the position of Head of Communications as well holding a range of managerial roles with the City of Melbourne.
On many occasions Sophie has been acting Chief Executive Officer, she is also involved in Board meetings and the strategic and operational leadership of the organisation. In 2011 Sophie managed the Strategic Planning process for the organisation which saw the Board approve a three year Strategic Plan to 2014.
Sophie consistently displays leadership qualities both within and external to the organisation.
Internally, Sophie is very well respected by the whole team. She leads in a collegiate and consultative style which sees her get the best out of people and in return her team respect and support her. Externally she has built strong relationships with our members right across the membership base, from CEOs to working with project partners in other countries. She has also built and maintains critical relationships with key stakeholders, including other organisations and government (at the state and federal level) across a range of portfolios including international development, community services, health and Aboriginal and Torres Strait Islander people.
Sophie's passion lies in international development and her current role as Director Global Policy and Programs reflects this.
She has also been recognised for this work by being elected Chair of the Australian Disability and Development Consortium in 2013, after being elected to the executive group in 2012.
Currently, Sophie leads the Secretariat for the Vision 2020 Australia Global Consortium. The Consortium is a group of eight members who came together under a Deed of Agreement in 2009 to 'make a significant contribution to the elimination of avoidable blindness and vision impairment in the Asia-Pacific region'. It is funded though the Australian Government's Avoidable Blindness Initiative and to date $29 million has been committed to this work. Sophie chairs the Consortium Program Committee and manages the Secretariat to the Consortium's board, the Regional Plan Steering Committee.
She has overseen the conclusion of the first phase of funding through the finalisation of a three year Completion Report which outlines tremendous results. She has also worked with members to finalise the design for the second phase of funding across Vietnam, Cambodia and East Timor.
In 2012 she visited Cambodia and Samoa and produced a video, which was played at a globally focused Parliamentary Friends Groups for Eye Health and Vision Care event at Parliament House in Canberra, which the former Foreign Minister (now Prime Minister) Kevin Rudd attended, along with the opposition Shadow Minister for Foreign Affairs Julie Bishop. Both parliamentarians voiced their bipartisan support for the elimination of avoidable blindness and addressing rehabilitation in our region. A further global Parliamentary Friends Group event was held in March 2013.
Sophie has the ability to see the big picture, but is also able to roll up her sleeves and be involved in project implementation. The success of events such as the Parliamentary Friends Group and the smooth running of the Global Consortium Secretariat are testament to her focus, skill and exceptional stakeholder management.
Sophie has been involved internationally since she started with Vision 2020 Australia attending Council of Members meetings in 2009 (Melbourne), 2010 (Geneva), 2011 (Dubai), 2102 (India) where she presented on the Global Consortium and had two posters accepted. She also prepared feedback on the recently endorsed Global Action Plan and is working with members to develop Vision 2020 Australia's Regional Strategy.
In 2008 I sought Sophie out to come and work with me at Vision 2020 Australia. It was one of the best decisions I have made. Sophie has gone above and beyond in every role she has held, bringing her friendly and personable approach to leading and delivering on her projects.
Her staff describe her as the best manger they have ever had and tell me they can only hope to have as good a leader in future roles.
Jennifer Gersbeck – Vision 2020 Australia