Vision CRC hails Sumrana Yasmin's unrelenting zeal for increasing access to eye health

Her name might not be one you recognise, but the impact of Sumrana Yasmin's achievements in South East Asia and the Eastern Mediterranean are renowned. She is a leading force in a dynamic team that is ensuring those less fortunate have every opportunity to reach their full potential.
As Programs Manager for South East Asia and the Eastern Mediterranean at the Public Health Division of the Brien Holden Vision Institute, Sumrana has dedicated her career to increasing accessible eye health services in the regions. The progress achieved by Sumrana and her team, is nothing short of extraordinary.
Professor Kovin Naidoo, Africa Chair of the International Agency for the Prevention of Blindness and Global Programs Director at the Brien Holden Vision Institute said, "Sumrana really does represent the best personnel in the non-profit sector. She has a proven track record of success in program design and management, program policy development and operational research. Her mastery of multiple disciplines has impressive reach that goes beyond the regions in which she works."
In her native Pakistan, Sumrana deserves an enormous amount of credit for supporting the development of Pakistan's optometric educational system. Her passion for developing human resources and
increasing the availability of education programs has encouraged immeasurable growth. To date, she has supported numerous education initiatives, contributed to optometric curriculum, implemented strategies for institutional development, created partnerships that have built educational facilities and has had considerable influence in raising the overall professional standards of care in the country.
Sumrana's ability to design and implement strategies that strengthen current health systems is second to none. She is focused on creating partnerships that achieve the greatest results and her unwavering enthusiasm to achieve access to the same health care opportunities, for everyone, regardless of gender, economic status or geographical location is inspirational to all who work with her.
Professor Naidoo describes Sumrana as humble and her passion for her work as infectious. "Sumrana is a true professional, she is happy to work tirelessly in the background while others are celebrated. Her ethos is all about collective efforts and her track record of success is a true testament to her ability to inspire others. Sumrana's enthusiasm is truly contagious," said Professor Naidoo.
Always firm on sustainable development, Sumrana has been instrumental in designing and implementing programs that address the challenges of a large unmet need for refractive services at a community and household level. The innovative approach provides quality eye health care while using business principles to sustain and grow services. The model, implemented by Sumrana, will help fill the vacuum of employment opportunities and skills training, that are a major obstacles for people trying to remove themselves from the poverty cycle.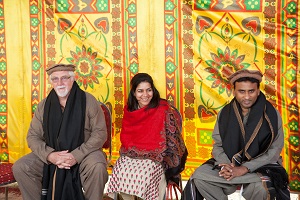 Sumrana and her team have helped open vision centres and optical workshops in the region that are a gateway into the broader development agenda. The centres will house community members, particularly women, who will be encouraged to take ownership of health services in their region. The project, spearheaded by Sumrana, will teach women valuable business management skills, eye health and dispensing skills and importantly provide them with an income.
Particularly in South East Asia, where low vision services are limited, Sumrana plays a critical role in the development of programs that are supporting thousands of people with low vision. Her leadership ensures that systems are in place so the care and devices required are within reach of the greater public.
Sumrana wears many hats, her role as teacher and mentor to personnel working in low vision clinics has had an impact on the care provided in numerous countries. A vital member of the VISION 2020 Low Vision Program Committee, Sumrana's contributions have aided education modules in low vision be developed and used worldwide.
She has contributed to dozens of papers on topics covering low vision, child eye health, availability of refractive services, community impact and education policy for children with visual impairment. As part of her research activities she is working to determine the burden of refractive errors and presbyopia in Peshawar, Pakistan and Sirajganj, Bangladesh. Her expertise in child eye health, low vision and approaches for strengthening health systems, have instigated numerous invitations as a guest speaker at professional conferences and congresses in Malaysia, India, South Africa, Pakistan and the United Kingdom.
Professor Kovin Naidoo said, "The progress achieved in Pakistan has been phenomenal. Driven, largely by Sumrana's unrelenting zeal for our work and her ability to contextualise her teams' efforts as part of a broader campaign to improve the lives of the most disadvantaged contribute to the eradication of poverty. Her commitment to eye health, industry expertise, drive and steadfast enthusiasm for change make Sumrana a perfect Eye Health Leader."