The World Council of Optometry celebrates the committment, integrity and many innovative initiatives of Dr. Udom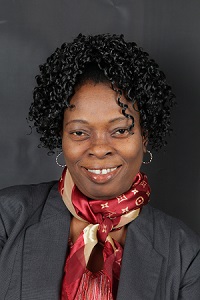 Dr Uduak Udom is a Nigerian primary care Optometrist who graduated in 1978 and who has made a significant contribution to the development of the profession within and outside of Nigeria during her professional career.
As proof of her high standards of professional competence and demonstrated leadership qualities Dr Udom became a fellow of the Nigerian Optometric Association (NOA) in 2000, a fellow of the American Academy of Optometry (AAO) and of the Nigerian College of Optometrists (NCO )in 2006.
Dr Udom is a professional with strong social commitment who has demonstrated the tangible contributions of optometry to human development and who has been able to mobilise others for a common cause. In 1998 Dr Udom helped set up and became the first President of Women Optometrists in Nigeria (WON) to contribute to the prevention of avoidable blindness due to refractive error making free optometric services available to the grassroots within and outside Nigeria. This involvement continued both as CEO of the Sight and Hope Foundation Nigeria (2008) and as President of the Women and Girls' Education and Skills Acquisition Hope for Excellence Foundation Nigeria (2011).
As the first female president of NOA (2006-2008) during her tenure Dr Udom's leadership led to its conferences becoming more responsive to the diverse interests of Nigerian optometrists, she established a scholarship scheme for students to encourage excellence in academics and supported clinical practice by donating ophthalmic instruments to training institutions.
She also ensured that the association got registered with the Cooperate Affairs Commission (CAC) and that it started playing a more active role within the World Council of Optometry (WCO) both within its Public Health Committee and Governing Board.
In order to improve eye care service delivery Dr Udom worked in partnership with the Optometrist and Dispensing Optician Regulatory Board of Nigeria (ODORBN) to make continuing education and workshops mandatory.
In 2008 Dr Udom became President of the African Council of Optometry (AFCO). In this position she brought in significant innovations including leadership workshops, increased collaboration with Special Olympics and other vision screening initiatives, promoted a review of AFCO's constitution and mission statement to reflect the public health relevance of Optometry and a new website with online CPD. Additionally she negotiated a MOU between AFCO and Salus University to offer part scholarships for African optometrists to do online Masters in Public Health and to establish a Master's degree programme in Clinical Optometry at the University of Gondar, Ethiopia. To increase the profile and voice of African optometry Dr Udom encouraged AFCO's participation in IAPB's regional meetings.
In 2010 she was the first Optometrist to be awarded a Commonwealth Professional Fellowship by the UK Commonwealth Scholarship Commission in 50 years of this scholarship being in place.
During the period of the Fellowship, based in the UK, and as a result of working with the UK charity 'Vision Care for Homeless People', Dr Udom made it a policy that before any AFCO yearly conference there must be an outreach to perform eye examinations on children with special needs in the country where the conference is held. But perhaps the most important part of the Fellowship was Dr Udom's research into leadership training for optometrists and women's groups across Africa, and a commitment to establish an AFCO Leadership Academy. Dr Udom saw the Fellowship as not just a way of finding out for her, but also a way of her sharing her experience so that the many organisations she met with would gain a better understanding of eye and vision public health issues in developing countries, particularly Africa.
Her leadership has been recognised by various prizes she has received such as Woman of the Year, American Biography Society (2005); the Leadership in National Development Gold Award D'Linga Nigeria (2008); Eye care Supporter of the Year, Nigeria Vision Expo (2008); the Special Olympics Opening Eyes Award for Volunteer Service Lions' Club in South Africa (2010); NOA's Meritorious Service Award (2011) and most recently the 2013 Nigerian Optometrist of the Year award presented during NOA's annual conference and 37th AGM held from 18th to 20th July at Umuahia, Imo State, Nigeria in the presence of 800 Nigerian optometrists.
During the 2013 WCO General Delegates Meeting held in Malaga, Spain Dr Udom was elected as the President-elect of the WCO. Her commitment, integrity and proven leadership will be invaluable to bring WCO to the next level of its development. Although already a proven leader in Africa, I feel that Dr. Udom has much more to offer and will be a future global leader for the advancement of eye care and blindness prevention.