Harnessing mobile technology to bring eye care to the remotest of settings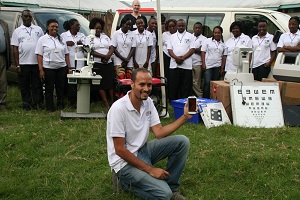 Dr. Andrew Bastawrous is an Ophthalmologist and Clinical Research Fellow in International Eye Health at the London School of Hygiene and Tropical Medicine.
The challenge
In 2013 he moved to Kenya to lead the Nakuru Eye Disease Cohort Study which involved comprehensive eye examinations of 5,000 participants over 100 locations throughout the Great Rift Valley in Kenya.
In each location a team of 15 people would normally travel to the remotest of settings with expensive and fragile ophthalmic equipment to set up clinics to examine the study participants. Power was rarely available and equipment had to be run from petrol-powered generators Often there were no roads as the majority of blind participants were in the most difficult to reach locations, beyond any infrastructure.
Typically eye health workers, of which there are very few, would have to leave the hospital to locate and examine patients in the community. This often led to eye departments being closed or having reduced capacity whilst outreach was active.
The solution
Faced with the fact that those most in need of eye care were the least likely to get it and knowing that more people in Kenya, and Sub-Saharan Africa, had access to a mobile phone than they did to clean running water, Andrew realised that there had to be an easier way – could the power of mobile technology be harnessed to deliver eye care in new ways?
Together with a team of eye care professionals, engineers, business experts and software developers, he developed Peek, the Portable Eye Examination Kit, a smart-phone based system for comprehensive eye examinations in even the remotest of settings.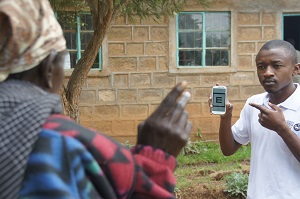 Peek consists of smartphone apps and hardware that make it possible even for non-healthcare workers to measure vision, image the eye and geo-tag the location of the examination to ensure patients can be followed up and treated appropriately.
Being based around a smartphone, Peek is highly portable, easy to use and affordable. It can be carried by one person on foot, bike or public transport and its battery is charged using solar power.
Now those in the most remote and difficult to reach locations can receive comprehensive eye examinations whilst keeping the few eye health workers in the system based in the hospitals doing what only they can do.