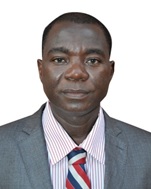 In addition to his patient care, surgical, and administrative duties at the Koudougou Regional Hospital, Dr. Paté Sankara leads several community-based eye health projects in the Center West Region of Burkina Faso. Two such projects prevent avoidable blindness by providing trachomatous trichiasis (TT) surgeries to all who need them, with the additional goal of attaining the WHO Ultimate Intervention Goal (UIG) for the surgical component of trachoma elimination in two districts.
These sister projects in the Koudougou and Sapouy health districts of the Center West Region work to locate patients in need of TT surgery and provide surgical and post-operative care free-of-charge in locations convenient to the patient. The projects provide training for health workers in TT surgical and post-operative care; surgical supplies; transportation for patients, surgical team, and follow-up visits; awareness raising activities at the community-level; screening for TT; and all necessary resources to ensure quality care and follow-up.
The challenges
Dr. Sankara and his team face many challenges –
Human resources: Trained eye-care professionals are in short supply in Burkina Faso, where fewer than 20 ophthalmologists serve in public facilities. Dr. Sankara is the sole ophthalmologist serving the 1.4 million inhabitants of the Center West Region. Only seven health workers in the region have additional eye-care training – six are based at the Regional Hospital, leaving three of four districts in the region without eye-care specialists at the district hospital or community-based health clinics.
Access to care: The procedure is quick, simple, and does not require a surgical theatre. Even so, TT services are normally offered only where trained providers are found – usually in larger facilities and urban areas. The patients needing the care, however, are generally the rural poor. Burkina Faso is one of the poorest countries in the world, ranking 183 of 187 nations on the UNDP 2013 Human Development Index. Patients needing the procedure often do not have the means to travel to the Regional Hospital to seek care, or to pay the relatively low cost of the procedure.
Communicating availability of TT procedure: Many people who need the procedure are not aware that something can be done to prevent blindness due to trachoma or when and where the service is offered. The Ministry of Health (MOH) and individual health facilities do not have discretionary funds to publicize the existence of the procedure or when and where services are available.
Locating patients in need: Trachoma is most common in rural areas, where populations are dispersed and can be difficult to reach. An estimated 4,800 people in the Center West Region need the procedure to avoid blindness. Most don't know the service exists, and therefore do not seek consultation. Locating 4,800 potential patients among a population of 1.4 million over 8,400 square miles with minimal infrastructure is expensive and time-consuming.
The solutions
Providing community-based care: Though based at the Regional Hospital, Dr. Sankara and his team travel regularly to district hospitals and peripheral clinics in rural areas throughout the Region to provide surgeries where it is convenient to patients.
Collaborating with local NGOs: With approximately 4800 patients in need of care throughout the region, many of whom are not aware a procedure to prevent blindness from trachoma is available, health workers need assistance to locate and communicate with patients. Dr. Sankara and the project team train local organizations which provide education about trachoma, organize community TT screening and house-to-house searches for potential patients, communicate when the TT surgeries will be provided at the local health clinic, and remind patients when the team will be in the area.
Sharing resources: Dr. Sankara provides refresher and on-the-job training to eye-care specialists, and additional training on trachoma screening and post-operative care for other health care workers. In this way, health workers at district and peripheral levels can assist with trachoma screening at the community level, and provide quality follow-up after surgical teams have returned to the Regional Hospital. He also facilitates cooperation among the facilities in the region, so that the trained workers based in one area can visit other areas to provide services at facilities that do not have an eye-care specialist.
Mentoring with positivity and enthusiasm: While others tend to focus on insufficiencies and what is lacking, Dr. Sankara focuses his energy on what can be done, with a positive spirit and determination to provide care to patients despite the many obstacles that confront the team. He is motivated, dynamic, and passionate about his work, spreading his infectious enthusiasm and positivity to all who work with him. He is a positive role model for all health care workers in Burkina Faso.
In summary, Dr. Sankara provides an exemplary service and maintains a positive spirit and contagious enthusiasm to overcome many obstacles in the performance of not only his official duties, but also additional projects to benefit patients in an extremely resource-limited setting.