Bringing education 'into focus' for thousands of underserved schoolchildren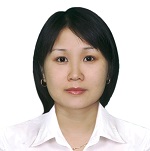 As Country Representative of Helen Keller International (HKI) Vietnam, Pham Kim Ngoc has been successfully implementing an eye care program which has brought education into focus for thousands of underserved schoolchildren with uncorrected refractive error.
Launched in Kon Tum province in 2011, HKI's ChildSight® school-based vision screening program is designed to improve the vision of schoolchildren by strengthening the ability of health personnel and trained teachers to provide screening services. Those students failing the visual acuity test are refracted by visiting eye doctors, with the students subsequently receiving eyeglasses assembled by local optic shops. With funding from USAID, Grand Challenges Canada, and other donors, the initial ChildSight® program in Kon Tum has expanded to Hanoi's peri-urban districts and Nam Dinh province.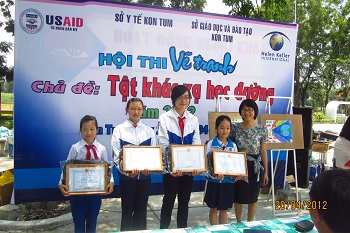 To date, HKI's program has screened over 80,000 schoolchildren and teachers in 140 secondary and primary schools, with approximately 7,000 receiving quality eyeglasses. Additionally, over 1,000 school health workers and community health personnel have been trained on screening, while 40 nurses and doctors have been trained on refraction and advanced pediatric eye care. In collaboration with the Vietnam Institute of Ophthalmology, HKI has also provided training to private optic shops in Kon Tum so that they can produce quality eyeglasses.
The challenges
It is estimated that one in five Vietnamese children suffers from refractive error, yet the vast majority remain undiagnosed and untreated. Despite this high burden of uncorrected refractive error, eye health among schoolchildren is a neglected issue in Vietnam, and a lack of coordinated efforts between the health and education sectors contributes to the problem. This unfortunate situation is exacerbated by the fact that (1) there is a lack of adequate financial and human resources being provided by the government to address the challenge of uncorrected refractive error among schoolchildren; and (2) there is inadequate public knowledge and awareness about the seriousness of this issue.
This is especially true in remote and mountainous Kon Tum Province, where 54% of the population are ethnic minorities and 30% of the inhabitants live below the poverty line, as of 2010. According to a KAP survey conducted by HKI prior to the launch of the ChildSight® program in 2011, most students and their families did not know what refractive error was, and if they knew, they did not know where to get screened and refracted and where to obtain quality eyeglasses, even if prescribed. Kon Tum province also lacks qualified refractionists, as well as well trained technicians, who are able to produce quality eyeglasses. Plus the few acceptable optic shops that do exist tend to be expensive and are only located in city centers, which are oftentimes inaccessible to the rural poor who might have to travel half a day just to get there.
All of these factors resulted in a situation which lessened the opportunities for students from poor families, especially ethnic minorities, to improve their vision. This in turn led to sub-standard performance at school and the inability of these students to live up to their full potential.
The solutions
Under the leadership of Pham Kim Ngoc, the HKI Vietnam office took innovative steps to address these issues. In collaboration with local partners, including the Kon Tum Departments of Health and Education and the Kon Tum General Eye Hospital, HKI Vietnam provided training to local school health staff and teachers on how to screen schoolchildren so that they could acquire the ability to identify students and teachers with refractive errors and in need of eyeglasses.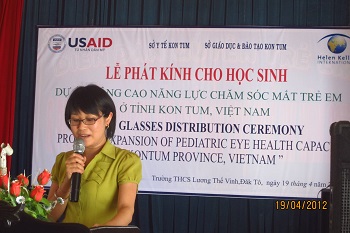 Most importantly, Ms. Ngoc and her team began the process of integrating private optic shops in the Kon Tum area into HKI's school-based vision care services to ensure that children with refractive errors would have access to quality eyeglasses, which were subsidized by the ChildSight® program so that the inability to pay would no longer be a barrier to good vision.
To ensure that the eyeglasses were of the highest standard, the HKI project provided training to the participating private optic shops in Kon Tum city and 8 surrounding districts – the first time that this type of public-private partnership in eye health had ever been done in the area – in order for them to produce quality eyeglasses for those children who needed them. The result in Kon Tum was that the HKI project was able to provide comprehensive eye care services to approximately 14,000 schoolchildren in 40 primary and secondary schools.
To increase awareness of the burden of uncorrected refractive error in the community, Ms. Ngoc and her team also developed creative education and communication materials which were disseminated to students, teachers and parents. Finally, the program provided necessary ophthalmic equipment to Kon Tum General Hospital to improve its pediatric eye care services for children in the province who were referred there by the trained school health staff and teachers.