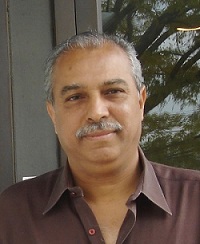 For over 50 years, IEF has been building eye care services in developing countries. Over 15 years ago, programming was reoriented to focus on organizational and financial sustainability of eye hospitals and clinics to improve quality, expand services, grow revenue, build and retain staff, and subsidize care for the poor.
Mr. Rahmathullah joined IEF as Director of Sustainability Initiatives in 2000 after 12 years as Administrator at the Aravind Eye Care System's hospitals in Madurai and Tirunelveli, and holding a 1993 Certificate in Community Eye Health from ICEH in London. Raheem was eager to adapt the sustainability success demonstrated in India to other parts of the world. With a grant from USAID, sustainability plans were developed for seven eye hospitals in six countries including significant investments in capacity building.
Clinical results typically show increases in patients examined of approximately 60%, all eye surgeries 20%, cataract surgeries 40%-60%, and pediatric operations by 30%. Quality surgical outcomes, revenue, and cost recovery are closely monitored. Working together with senior staff and our partners in the field, Raheem has now led major interventions at 36 eye hospitals in 19 countries worldwide with new hospitals coming on line this year.
The challenges
Introducing change is never easy and resistance to change is not uncommon. Some well staffed and equipped hospitals simply need mentoring/coaching to improve efficiencies, pricing structures, revenue generation, and to introduce standards and protocols. Others also need investment in intense capacity building including HR reorientation, equipment, and space reconfiguration. Clinics developed from the ground up require the full complement of mentoring/coaching, capacity building and investment.
The change process takes several years depending on the type of eye clinic or hospital (private, NGO/charity, or government). Change has to come from the top with leadership commitment that ensures that the sustainability plan will be implemented and benchmarks achieved. However, all clinic/hospital staff need to be on board and committed to the change processes within their own units. The challenge is to build trust among the senior clinic/hospital leaders and then among all staff so that the change process, while sometimes wrenching, will yield positive outcomes for everyone, especially the patients.
Three overarching challenges exist. First, how do we build capacity in the regions to mentor and create sustainability plans for new clinics and hospitals? In order to assist more eye care providers requesting support for sustainability programming, we need more mentors in the regions.
Second, how do we bring in key stakeholders responsible for large eye care programs into the sustainability movement? We need to make wider sector reform, especially with government eye units. Ministries of Health are encouraging increases in the number of patients treated, greater efficiencies, cost reduction, and retention of revenue. This requires policy change in some countries where for example, the number of patients who can be examined per hour is capped.
Third, having enough funds to invest in capacity building for each hospital is critical to ensure they stay on track and achieve their results.
The solutions
As a highly respected, experienced, seasoned professional, Mr. Rahmathullah was able to build trust among senior leaders and staff creating commitment to the change process.
Overarching challenge #1: Build capacity in the regions to mentor new clinics and hospitals. A first step was to elevate Visualiza/Guatemala and the Magrabi Low Pay Hospital/Egypt, two of IEF's first mentees, to IEF "Regional Demonstration Centers" where eye hospital teams come for orientation/planning workshops, and to see first hand how an efficient eye hospital functions. In Latin America, Raheem built a "Delta Team" including Juan Francisco Yee, Visualiza's Administrator, and Alberto Lazo, Administrator at Clinica Divino Nino Jesus (DNJ) in Peru. Drs. Mariano and Nico Yee from Visualiza and Dr. Cesar Gonzales from DNJ provide clinical training to new mentees. At the request of DNJ's major supporter CBM/LA, IEF developed a sustainability program for DNJ in 2009. Among their achievements is the recognition that DNJ is now the leading cataract surgical center in Peru and will begin rotating ophthalmology residents from the university for training at DNJ.
Challenge #2: IEF responded to major stakeholders driving sector reform in Latin America. Orbis International and PAHO are committed to transforming the government/public sectors. PAHO identified four hospitals in Costa Rica, El Salvador and Honduras and will add three countries this year. Raheem has initiated sustainability programs and the government eye care teams have been quick to introduce many of the process improvement principles.
Challenge #3: Funding. IEF and Raheem are building a cohort of donors, large and small, who contribute to the sustainability process. Mr. Rahmathullah is a global leader in sustainability programming in Africa, Egypt, and India, and has been the driving force in Latin America for 15 years.
For all these reasons IEF is proud to nominate Raheem Rahmathullah as its innovative Eye Health Leader for 2014.