Building a qualified eye health workforce and improving access to low cost technology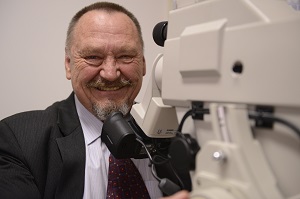 As the Medical Director of The Fred Hollows Foundation, Dr Richard Le Mesurier has overall clinical and technical responsibility for eye health programmes in up to 19 countries as part of the global effort to eliminate avoidable blindness.
His role includes identifying and developing innovative ways to make eye care cheaper and more accessible to those least able to afford it, through training and technology.
Training
Dr. Le Mesurier's selection of key individuals who are making a significant contribution in their own societies is crucial to the success of The Foundation's programmes in Africa, Asia and the Pacific.
Technology
Ophthalmology continues to benefit from the rapid growth in technology, yet much of the development has been at the top end. Dr. Le Mesurier has sought simple, easy to use, affordable alternatives. In the past two years he has supported the development of a lightweight, non-mydriatic fundus camera, known as the Quantum Catch and a miniaturised ophthalmoscope and otoscope that is capable of transforming eye and ear care globally by making it not only possible but economic to screen and treat millions more people.
Multiple challenges
There are multiple challenges both political and practical: four out of five people who suffer from avoidable blindness live in low to middle income countries with little or no regular access to affordable eye care. Many governments don't know about the economic and social benefits of eye health and don't see it as a priority for funding. The result is that there is a lack of skilled practitioners, a lack of equipment and a lack of services.
Lack of qualified staff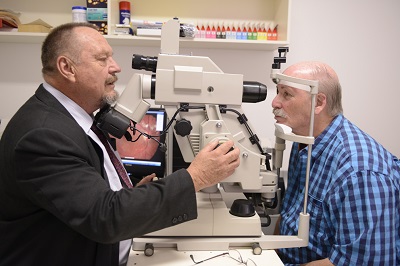 Ethiopia has a population of 98 million and yet it has just over 100 registered ophthalmologists. In the north of the country there is one functioning ophthalmoscope for five million people. The majority of health workers either don't have access to equipment or haven't been trained to use it. This lack of trained personnel means that thousands of people with blinding cataract or trachoma continue to suffer.
Expensive equipment
Ophthalmic equipment, because of its sophistication, is often bulky, fragile and expensive. Microscopes have delicate refractive elements vulnerable to rough roads. Even cheaper, simpler versions are out of the price range of many health authorities.
Resistance to change
If the VISION 2020 goal to eliminate avoidable blindness is to become a reality, radical new ideas about basic diagnostic equipment are needed. Yet low priced innovation has its detractors, given the vested interests of large corporations who've spent millions developing the latest technology. Then there is the challenge of persuading doctors, health workers and patients that the new instruments or techniques are fit for the job.
Solutions
Dr. Le Mesurier's solution to the problem has been threefold: he has put in place professionals who can drive the eye care message politically and practically, developed Fellowships to help inspire young ophthalmologists and improved access to low cost technology.

Leadership
When The Foundation decided to invest heavily in eliminating trachoma in the Ethiopian region of Oromia, Dr. Wondu Alemayehu was Dr. Le Mesurier's first choice for in-country medical advisor. The two had worked together while training the first 10 ophthalmologists in Ethiopia to do microsurgery with IOL implantation at Menelik University Teaching Hospital in Addis Ababa. Dr. Wondu's ability to inspire others, his great experience and the respect his colleagues have for him were major factors in the success of the Global Trachoma Mapping Project and the development of The Foundation's program in Ethiopia.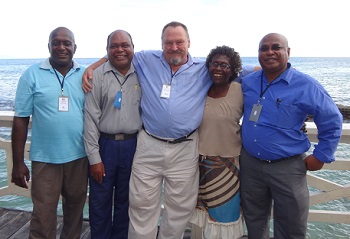 Fellowships
Dr. Le Mesurier has built a Fellowship programme for young ophthalmologists from Australia and New Zealand to provide them with the opportunity to work across the Pacific and in Australia's Indigenous communities.
In 2014 there are three Fred Hollows Foundation Ophthalmology Fellows, Dr Katie Chen currently on rotation at the Pacific Eye Institute in Fiji, Dr Abhishek Sharma at the Alice Springs Hospital and Dr Terence Tan due to start his Fellowship in August.
Technology
Last, but not least, Dr. Le Mesurier has championed the development of low cost technology. For example, he supported the ArclightTM from prototype to product. This marker pen-sized combination of ophthalmoscope and otoscope is the brainchild of Welsh optometrist William J Williams. The ArclightTM is robust, portable, solar powered (with a USB device for sunless days) and is likely to retail at less than $15 with no ongoing maintenance costs.
Dr. Le Mesurier immediately recognised the instrument's potential economies of scale in the same way that Professor Fred Hollows helped revolutionise access to cataract surgery through the use of cheaper intraocular lenses. The simplicity and flexibility of the ArclightTM make it ideal for use by everyone from doctors to field health workers and thousands of pre-production units have already been tested in challenging conditions around the world.