The Challenge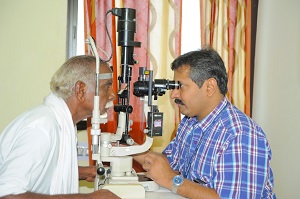 In order to better ensure high quality outcomes and to safeguard patients in case of an emergency, cataract surgeries in India are increasingly carried out at fully equipped operation theatres in base hospitals and camp-site surgeries are being strongly discouraged.
However, one of the reasons for the persistence of cataract blindness in India is the fact that a majority of the population live in far-off rural and tribal areas. Many non-ambulatory patients such as the very old or disabled patients may sometimes not benefit from hospital-based programmes because they cannot reach them. The commute to the base hospital or screening camps is difficult and when accompanied by attendants, this is often done at the cost of a loss of income for those days, adding to the overall financial burden.
The key issue then becomes how to take high quality safe surgery practices to the door-steps of such patients.
The Innovation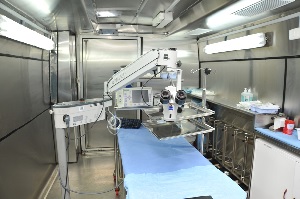 India's improving road network makes a bus-based facility practical – as the roads increase, so does access. Sankara Nethralaya and the Indian Institute of Technology in Madras recently developed the Mobile Eye Surgical Unit (MESU) to take advantage of these changing conditions and so created a standards-compliant, bus-based surgery environment to tackle those untouched pockets of cataract blindness.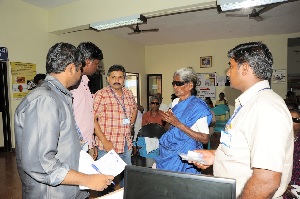 The project was originally conceived by Dr. SS Badrinath, Chairman Emeritus and Chief of Sankara Nethralaya. Dr Badrinath, Col N Raghavan, an engineer from Sankara Nethralaya and the select team of ophthalmic surgeons collaborated with Dr Mohanasankar Sivapragasam, an engineer from IIT, Dr Bhaskar Ramamurthy, Director of IIT, Madras and their team. It is this collaboration which resulted in the functional unit called MESU. Dr Sudharshan, an active member of the Sankara Nethralaya team, has been nominated as its Eye health leader in recognition of his contribution for the same.
MESU overcomes traditional problems and limitations related to camp-site surgeries with technology. It is an air conditioned bus and the surgery is done after thorough sterilization (i.e. only when microbiological culture shows negative, surgery is permitted). A local ambulance with all the necessary resuscitation facilities is available on standby. The air conditioners are equipped with high efficiency filters and the water is rendered safe through reverse osmosis. A generator ensures continuous power supply in the event the main is abruptly discontinued.
Initial assessments of the MESU programme have shown exceptional surgical outcomes and vision rehabilitation, comparable to surgeries at urban-based hospitals in India.
The Eye Health Leader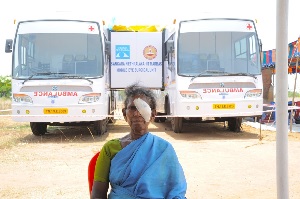 Dr. S. Sudharshan is an experienced ophthalmic surgeon from the Sankara Nethralaya base hospital in Chennai, India. He is a core member of the team of surgeons, and together, they have conducted more than 1000 surgeries through the MESU programme.
Beside his surgical work, Dr. S. Sudharshan also helped in building the bus and worked tirelessly in ensuring the outreach programme met the expected outcomes. He also played a crucial role in the development of the design and functioning of the mobile operation theatre.