Taking diabetic retinopathy's screening to the 'next' level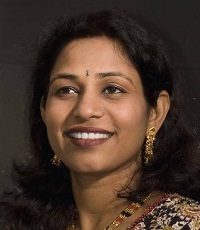 As the Senior Eye Health Program Manager for Helen Keller International (HKI) Indonesia's eye health portfolio, Satya provides technical direction and oversight to the key areas of schoolbased screening of junior high students for refractive error; screening and treatment for diabetic retinopathy for people with diabetes; and expansion of eye health services through the primary health network. Satya also plays a key role within HKI as a member of the country management team and helps to set the technical direction of HKI's office in Indonesia.
The challenge
In 2009, HKI and Rumah Sakit Cipto Mangunkusumo (RSCM) – Jakarta's tertiary hospital – developed a hospital‐based screening program for diabetic retinopathy (DR). Over four years, more than 6,000 people with diabetes were screened using retinal photography and the program has now become an official service of RSCM. Patients are screened in the Endocrinology clinic and images are graded in the Department of Ophthalmology where they are also treated as needed.
Prior to this pilot program, Indonesia had no systematic approach to detect DR in people with diabetes. To date more than 20% of the people with diabetes screened at RSCM had DR.
However, based on the likely prevalence of diabetes, there are perhaps as many as 600,000 people with diabetes in Jakarta and approximately 200,000 of those people with diabetes are at risk of DR. Furthermore, about 60,000 of these have vision‐threatening DR that could be prevented with proper screening and management.
The current RSCM‐based DR screening program has screened less than 1% of people with diabetes for DR to date.
This is because most people with diabetes receive all of their diabetes‐related services at the primary health level and they are not likely to attend RSCM, the tertiary facility. By not attending services at RSCM, Jakarta's people with diabetes are not likely to be screened for DR on a routine basis as the DR screening services are generally only available at RSCM.
The solution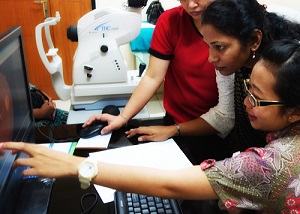 Given the lack of availability of routine DR screening of people with diabetes outside of RSCM, Satya advocated for the expansion of DR screening services at the primary health centres. To
test this model, Satya worked with RSCM to organize a primary health centre‐screening event at a subdistrict primary health centre in October 2013 as part of World Sight Day and World Diabetes Day 2013 activities. This primary health centre‐based DR‐screening activity was implemented to also assess the feasibility of telemedicine screening of people with diabetes at the non‐communicable disease focused primary health centre.
Over the nine days, 228 people with diabetes were screened. This represented a significant increase in the number of people per day screened for DR in Jakarta. Based on these encouraging preliminary results, RSCM agreed to a larger expansion – associated with rigorous data collection procedures in line with research project standards – to assess if large‐scale DR screening at the primary health centre‐level can truly increase the number of people with DR treated early.
RSCM will initiate this pilot expansion of primary health centre‐based DR screening in August 2014, and Satya has worked directly with RSCM's senior retina specialists, the hospital administration, the Provincial Department of Health, and other key stakeholders to ensure that all appropriate considerations are taken into consideration to ensure the pilot is treated and conducted as a proper research study to provide evidence for policy makers.
If this test of primary health centre‐based DR screening is effective, this may offer an innovative solution to reduce preventable blindness among Indonesians. In 2014, more than 9 million people are estimated to have diabetes in Indonesia and one out of three of them may be affected by diabetic retinopathy. This means that more than 3 million people in Indonesia are affected by some form of diabetic retinopathy. The public health system in Indonesia must develop effective measures to address DR to scale as quickly as possible otherwise the prevalence of blindness will go up significantly. Indonesia has one of the largest populations of people with diabetes in the world, and it has an increasing burden of obesity.