From cataract outreach to comprehensive eye health: striving for continuing development in Sub-Saharan Africa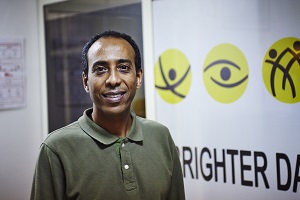 Dr. Amir Bedri Kello is not only an Eye Health Leader, he is a great inspiration and role model for a lot of people who have the privilege to get to know him.
The Ethiopian did his studies partly in former East Germany, partly in Ethiopia. After specializing as an ophthalmic surgeon, Dr. Bedri Kello worked at the Department of Ophthalmology of ALERT Hospital in Addis Ababa and participated regularly in outreach activities to provide cataract surgical services for populations living in underserved parts of Ethiopia. As an ophthalmologist, he immensely contributed to the well-being of the Ethiopian population, until he invested his knowledge and wisdom also to contribute to the eye health development of Ethiopia and other countries.
Getting to know about VISION 2020 nourished his desire to understand the bigger picture in eye health and he decided to undertake a MSc course in Community Eye Health at the International Centre for Eye Health (ICEH), University College London. Back in Ethiopia, he became engaged in programming for the elimination of blindness in comprehensive eye health and for some time more specifically in trachoma.
Nowadays he is engaged as senior consultant for eye health with LIGHT FOR THE WORLD, advising on general eye health programme development and technical issues mainly in Sub-Saharan Africa, such as Ethiopia, Mozambique, Burkina Faso and South Sudan. In addition he is also actively contributing to trachoma elimination in Ethiopia and Mozambique.
As co-chair for IABP Africa he is responsible for the East Africa Sub-region, with the countries: Eritrea, Ethiopia, Burundi, Kenya, Rwanda, Tanzania, Uganda.
Dr. Amir Bedri Kello is known and appreciated as a very grounded and knowledgeable person with a deep understanding of the Sub-Saharan African context. According to him, the difficult circumstances in the region should never be an excuse for denying high quality eye services for the people living in Sub-Saharan Africa.
Dr. Amir Bedri Kello is also known and appreciated for his discipline and will to learn: during his engagement with LIGHT FOR THE WORLD as a senior consultant for Burkina Faso, he started to learn French, which he is almost fluent in already.
Despite his engagement on international level in various fora, he never lost touch to his medical dedication and profession, his passion to contribute to an improvement in developing countries and his love to help people.
See also: interview with Amir Bedri Kello at IAPB 9th General Assembly