Using leadership and innovation to lift Niger's eye health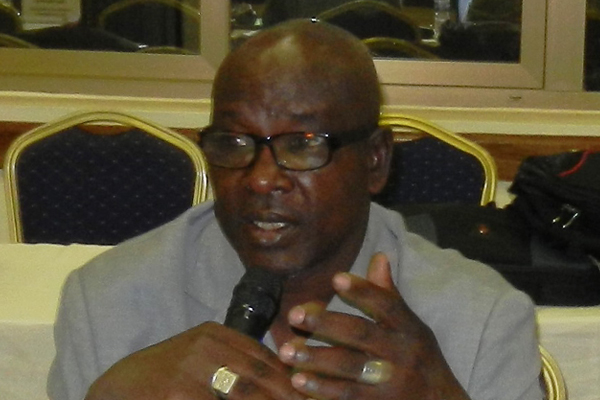 Niger is a country that is consistently ranked either last or among the last in the Human Development Index, and has historically had a very high burden of trachoma, cataract, and other eye diseases, nation-wide.
Dr. Boubacar Kadri is the Deputy Coordinator of the Niger National Eye Health Program, and was appointed into this role in 2000. He also recently served as the Acting National Neglected Tropical Disease Coordinator, until a full-time focal point was nominated in May 2015. During his time with the Niger National Eye Health Program (PNSO), he has led remarkable efforts to combat trachoma, cataract, and other eye health diseases that plague Niger.
As increasing amount of support for mass drug distribution for active trachoma and surgery for trichiasis have been pledged for Niger over the years, given its high burden for trachoma, Dr. Kadri has showed immense leadership in making sure these funds reach those who need them. Working with Dr. Amza and the PNSO, Dr. Kadri has led the development of annual strategic plans for the SAFE Strategy, supervised millions of treatments with antibiotic, created strong social mobilization strategies for surgery, implemented quality improvement studies to assess barriers to access/quality of trachoma services, and developed a novel "Trichiasis Week" to raise the profile of trachoma across the country.
Due to this, since 2000, over 300 trichiasis surgeons have been trained and 100,000 people operated for trichiasis. In recent years, Niger has significantly increased its annual surgical output, jumping from about 6,000 persons operated per year (2009, 2010) to over 10,000 persons operated per year in 2013 and 2014. This increase is due largely to Dr. Kadri's and the PNSO's efforts to improve the surgical program's efficiency.
Dr. Kadri has also demonstrated commitment to improving surgical quality by developing an innovative post-operative evaluation assessment tool and improving national policy. The implementation of "Trichiasis Week" boosted the profile of trachoma in the country, and led to over 3,000 persons receiving surgery for trichiasis in weeks, which is more surgeries than many countries report in a year. More recently, Dr. Kadri and the PNSO have led the mapping of trachoma in Agadez (August 2014) to ensure that data on the full country is known as Niger approaches their trachoma elimination date of 2020. The progress and hard work Dr. Kadri and the PNSO have shown under his leadership makes Niger's will to eliminate trachoma before 2020 a strong reality in one of the most resource challenged countries in the world.
Although trachoma takes up a lot of his time, he often reminds his partners that he does not manage a National Trachoma Program, but rather a National Eye Health Program. His hard work and dedication to organizing cataract camps both in the field and district hospitals has led to an almost 3 fold increase in the number of people reached with cataract surgery over the past 10 years. He has worked tirelessly to improve the eye health services of Niger, and has initiated the establishment of new ophthalmology units in 14 districts, with an additional 12 districts to benefit shortly, which will mean that almost half the country will have access to improved ophthalmological services.
His dedication to the health of Nigeriens and the amount of time and dedication he devotes to making sure this happens is remarkable. It is truly an honor for Helen Keller International to nominate Dr. Kadri as a 2015 Eye Health Leader.
Learn more: Trachoma prevalence in Niger – results of 31 district-level surveys