Dedicating a life to provide eye care to the most poor and marginalised communities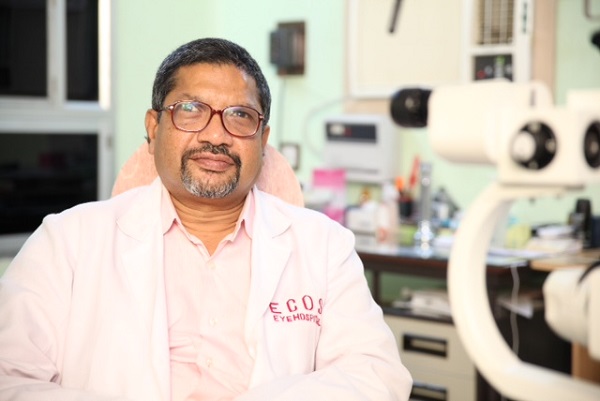 Dr Bal graduated with an MSc in Ophthalmology at the MKCG Medical College in Berhampur, Odisha, in 1983. In 1984, while working at a CBM supported eye hospital (Christian Hospital, Diptipur) he was returning from an eye camp in western Odisha, when he was caught in a serious road accident. For three-four days following the accident, he was almost blind due to the head injury he had suffered. Once recovered, he considered his new lease of life a gift from God and decided to dedicate it for the service of poor blind people.
He resigned from his government job and in 1991 an opportunity presented itself to start a pioneering eye care programme in the Southern parts of Odisha, where the need was immense. Thus ECOS Eye Hospital came into existence, on 1st May 1991. CBM accepted ECOS as a partner in 1992 thanks to Dr Bal's dedication to eye care and the previous collaboration in Diptipur.
His commitment to better serve the poor and marginalised communities of Odisha prompted Dr Bal to constantly seek opportunities to develop his skills: in 1994 he went to Aravind Eye Hospital to undertake training in Intraocular Lenses (IOL) implantation technique; in 2000 he went to Lahan (Nepal) for training in Small Incision Cataract Surgery (SICS) with fish hook technique sponsored by CBM; in 2002 he undertook a Diploma in Community Eye Health (DCEH) at LV Prasad Eye Institute in Hyderabad; in 2006 he also did a short fellowship in Glaucoma at Aravind Eye Hospital, Madurai; finally in 2008 he went to Joseph Eye Hospital for training on Phaco emulsification.
Dr Bal's efforts and focus on continuing improvement led ECOS Eye Hospital to reach remarkable milestones in its broad range of services:
On an average 7400 cataract surgeries, 160 glaucoma surgeries and 380 other ocular surgeries are performed every year; the highest in this part of Odisha.
School Screening Camps are undertaken in collaboration with partners like SSA Ganjam, DBCS and the Red Cross in the district of Ganjam, Odisha including dispensing of spectacles.
Establishment of a School of Optometry – DOOT Course & Vision Technician Course.
Awareness raising work for Eye Health and Eye Donation through air, electronic media, print media, street shows, posters, hoardings and village to village announcement in PA Systems.
For these and many more achievements, CBM is proud to nominate Dr Bal as its Eye Health Leader.