Celebrating a life dedicated to the underprivileged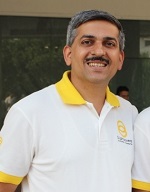 Vasant Shendye worked for Sightsavers in India for seven years. He was based in our Bhopal office. Vasant made huge contributions to our work in India, managing critical projects in Uttar Pradesh, Chhattisgarh and Uttaanchal. His biggest achievements with us were the introduction of a state wide school screening initiative in Chhattisgarh, including the coordination of assessment of children with low vision, and the setting up of quality assurance systems for our partners across North India. His personal lobbying convinced the government of Chhattisgarh to introduce quality improvement measures across public health facilities in the State.
Vasant also had a passion for education and sport, and worked with visually impaired children to help them excel in this area. His efforts led to a number of visually impaired children winning prizes at local and state levels in culture and sport. His own love of sport and our mission led him to participate in a number of fundraising marathons over the years.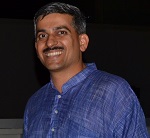 Vasant was killed in a hotel fire on June 19th 2015, whilst on a mission to Pratapgarh to assess eye health facilities in the district, along with a partner and a consultant.
In short, he gave his life for his work. That life was tragically cut short. He was someone whose dedication to his work was making a huge difference to marginalised people in North India, and we had just promoted him in recognition of his contribution and his potential.
He will be sorely missed – to us he is an eye health hero, and we hope the eye health community will also recognise him as such.
Caroline Harper
CEO, Sightsavers
Read more: major loss to eye care community in India