The Award
Universal eye health cannot be achieved in a silo. To ensure the development of sustainable eye health services integrated within strong national health systems, we must engage with broader health networks and organisations beyond eye care. Multisectoral engagement to strengthen eye health is in fact a key area of focus of 'Universal Eye Health: a Global Action Plan 2014-2017'. The new Sustainable Development Goals (SDGs) framework also provides opportunities for effective partnerships with the broader development communities.
The IAPB Global Partnership Award aims to recognise the value and impact of multi-sectoral collaborations and partnerships, and of the organisations engaged in them, in contributing to sustainable and integrated eye health systems.
Also see: List of IAPB Awards
Past Winners
Merck was awarded the Global Partnership Award at the 9th General Assembly in 2012 in recognition of the Mectizan Donation Program, its large scale donation of the drug ivermectin to control the spread of onchocerciasis, or river blindness. Previous winners include Standard Chartered Bank for the Seeing is Believing Programme, its flagship collaboration with the International Agency for the Prevention of Blindness (2008).
Standard Chartered Bank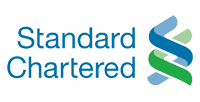 in recognition of the Seeing is Believing Programme
2008, 8GA
Merck

in recognition of the Mectizan Donation Program
2012, 9GA