BHVI Sri Lanka – Optometry Development Project
According to the National Programme for the Prevention of Blindness in Sri Lanka, the prevalence of blindness is 1.1% for people over the age of 40. There are an estimated 100,000 blind and 300,000 people with low vision. Over 2 million people suffer from refractive error (RE). Currently, Sri Lanka's capacity to deal with this huge number is constrained because of the limited number of clinical staff, including ophthalmologists and ophthalmic technologists. Most of the current refractive services are offered by opticians who are not qualified to provide quality refractive care.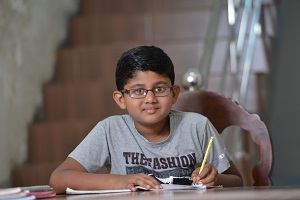 The total population of more than 21 million people is served by 57 eye surgeons and 250 medical officers in government hospitals. There are 23 surgeons in the private sector. According to available data, 85 ophthalmologists and 112 ophthalmic technologists serve in the state and private sector in the country.
The national programme has identified the need to train an additional cadre of 60 ophthalmologists, 150 optometrists, 30 orthoptists and ophthalmic nurses that would serve in all nine provinces across the country to achieve the targets of Vision2020.
Keeping in view the current scenario, Brien Holden Vision Institute with support from SiB Phase 5 has initiated an optometry degree programme in partnership with Institute of Human Resource Advancement, University of Colombo (IHRA.UOC). The goal of the project is "development of a recognised optometry training programme in accordance with the HRD component of the National Eye Care Plan of Sri Lanka".
The optometry training programme is aligned with the National Eye Care Plan for Sri Lanka and has a strong emphasis on public health. Other key stakeholders include Ministry of Health and Nutrition; V2020 Secretariat; the ophthalmic technologists; and private sector practitioners. The programme will attract candidates from across country. Bridging programmes will be initiated to provide continuous professional development for practicing eye health professionals to access a formal, university-based qualification. The programme plans to prepare professional eye health workers who are able to provide the full range of optometric services required to function in a multi-disciplinary team focused on comprehensive eye care; and it will develop the local capacity of optometry faculty in clinical care, teaching and training, and research to ensure that eye health care becomes more accessible.

Sumrana Yasmin
Regional Director, South East Asia & Eastern Mediterranean, Brien Holden Vision Institute
s.yasmin@brienholdenvision.org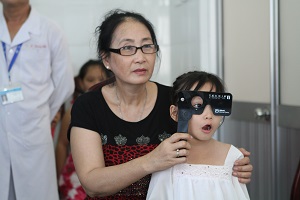 At present, cataract surgeries in Viet Nam are increased significantly. The surgical outcome is still unmeasurable.
Inspired by research on Cataract Surgical Outcome Monitoring of Dr. Hans Limburg, FHFVN developed the concept into a software named Cataract Surgery Surveillance System (CSSS).
The software is being used in 12 project provinces of FHFVN, including Tien Giang and Vinh Long. Feedbacks from users were acknowledged and suitable adjustment were made.
The use of software can help:
Follow-up surgical outcome through extracted reports of
· Visual acuity before and after surgeries
· Surgical outcome at discharging, first, second and third recheck-up
· Complications occur during performing surgeries
· Other eye diseases along with cataract
Manage quality of cataract surgical programme and set new goals on eye disease control
· Disaggregation of genders
· Ages of patients
· Payment sources. E.g. subsidised by project or covered by health insurance
Surgeons self-monitor their surgical skills
This is a web-based version so it takes only 1 day to train staff of partners to use.
From 2013 until June of 2014, 4,827 cataract surgeries, in Tien Giang and Vinh Long, have been recorded into CSSS.
The statistic of recording is often shared internally in each province. FHFVN uses data to follow-up the surgical outcome or discuss on new approaches with partners.
For instance, coordination with the elderly association need to be more strengthened because 80% cataract patients are 60 years old and over; or when cataract surgeries are numerously performed, sterilisation must be warranted to maintain surgical quality and minimise complications.
In quarter 4, Lam Dong and Dak Nong will be supported and trained to use this software for the first time. CSSS is aimed to become a reliable data source and its popularisation will make users more aware of cataract surgical outcome.

Phan Thi Trang
Project Manager, The Fred Hollows Foundation – Viet Nam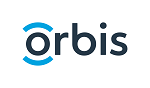 Orbis CHEER, China
In the last six months, we continued weaving a network for child eye health by linking current multiple networks in Shanxi. The local leading coordinating organization SPEH spent considerable time in building relationships with key leaders from MOH &PBOH, PBOE and CDPF for collaboration in child eye health.
These sectors have own network through provincial to village levels. Collaboration with these sectors will help interconnect their networks, which is critical for improving and sustain child eye health and education.
Through these key local agencies' networks and on-going collaboration, the project was able to train MCH workers in pre-school children screening and referral for children aged 0-6 years to SPEH; hospitals at three levels partnered with regular schools and schools for the blind/special education, and some SWIs to do screening and training to teachers and caregivers; further collaboration, e.g. village/community screening, low vision service and rehabilitation, is developing between hospitals and DPF staff at all levels.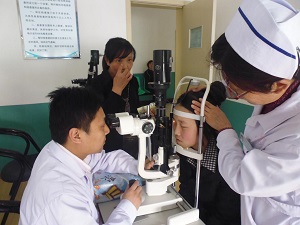 A network of professionals who can work with the families and their children with low vision and/or multiple disabilities will begin to develop.This network can be an on- going support to the families after this grant is completed.
In early 2014 and recently, we provided a brief summary of the project to PBOH, PBOE, and CDPF to keep them updated on the project. They were also invited to child eye health relevant events, workshops, and meetings in the project. For example, a representative from MOH and National Prevention of Blindness Office were invited to the opening of the management training workshop for project managers from 19 partner hospitals.
The current situation of national blindness prevention was introduced by the MOH representative, as well as the plan and priority of national blindness prevention. Provincial multi-sector representatives were also presented at the opening, which included key person from PBOH, PBOE, and CDPF.

Ms.GUAN Chunhong
SiBV CHEER, ORBIS

Sightsavers India Phase V – Sunderbans
Access and availability of health services in Sunderbans is a challenge. Eye health does not feature as a priority for either government or other service providers. The local population depends on the existing NGO hospital and semi-skilled service providers. With this reality, the project designed the establishment of Vision Centres across various locations of the area.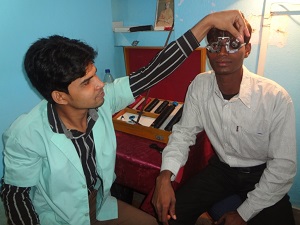 During the first year, 7 such vision centres have started operations with the latest equipment required for primary eye health service delivery and trained human resources. Vision centres are a new phenomenon in the area. They aim at providing subsidised services and spectacles to the community on its doorstep.
The response in the first month has been positive. To spread awareness about the existence of this service and reach out to the interior islands, regular outreach camps are organised at different locations with the support of Community Health Workers. In the first year, 273 outreach camps were organised, screening 19,847 people.
The second year of the project will witness the opening of 8 more such centres covering 15 of 19 blocks in Sunderbans (2 blocks have sub-divisional hospital so there was no need for replication of services) and 2 vision centres will operate out of boats, reaching those locations which are inaccessible by land. Individual business plans and sustainability strategies are being devised to ensure the service to the community continues beyond the life of the project.
Sameera Ahmed
Sightsavers India

Sightsavers Pakistan Phase V – "Strengthening Pakistan's Response to Diabetic Retinopathy"
Diabetic Retinopathy (DR) and Sight Threatening Diabetic Retinopathy (STDR) are among the most common causes of blindness in Pakistan. The International Diabetic Federation (IDF) ranks Pakistan at number seven globally for high diabetics in the population, with prevalence estimated at 7 million in 2010 and projected to increase to 11.5 million by 2025. Various population-based studies conducted in Pakistan suggest that approximately 25% of people with diabetes have DR, and 10% have STDR. Most of those with STDR (94%) will need laser treatment and around 6% require advanced Vitro-retinal (VR) surgery.
To address this issue, Sightsavers, in collaboration with the "Seeing is Believing" programme run by Standard Chartered Bank, initiated a five-year project titled 'Strengthening Pakistan's response to diabetic retinopathy' in April 2014. The project aims to prevent visual impairment due to DR through early detection, regular follow ups and appropriate management of STDR amongst known diabetics in three districts (Karachi, Lahore and Rawalpindi) of Pakistan.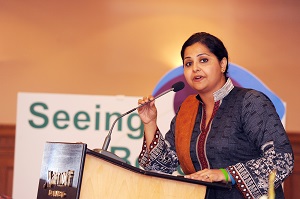 The project will specifically focus on diagnosis and treatment of men and women who are known diabetics. Moreover, a referral system will be developed to ensure known diabetic patients are screened for DR and a management plan established. Follow ups with patients will ensure treatment compliance and a tracking system that records referrals, screening, treatment and follow-up of known diabetic patients will be developed.
To enhance referrals from communities to the tertiary hospitals for DR screening and treatment, strategies such as human resource development (through General Practitioners, Medical officers and Technicians at Health Facilities and Lady Health Workers working in the project area) and awareness raising through IEC material will be used.
Over the next five years, the Sightsavers Pakistan country office will engage in multiple advocacy initiatives to raise awareness and ensure sustainability of the project with the Government of Pakistan and other key stakeholders. For this project, the National Diabetic Retinopathy Working Group Pakistan will provide a platform for lobbying and advocacy with the government and other key stakeholders. Under the umbrella of the National Eye Health Committee the current working relationship of the members will be further strengthened for the prevention and control of DR.
Sightsavers will advocate for show-casing of a hospital based DR service model through increased inter-departmental linkages for resources allocation and creation of posts for project staff by making it part of the next 5-year action plan for the National Program for Prevention and Control of Blindness.

Leena Ahmed
Sightsavers Pakistan

Project Approaches- "Community Eye Centre"; Community Outreach Program in Mountains and Hills of Nepal
Community Outreach Program is one of the most successful approaches that Tilganga Institute of Ophthalmology applied and improvised over the two decades in providing qualitative and affordable eye care services. Nepal's geographical terrain is a challenge to access the eye care services.
Tilganga has 13 Community eye centres, 1 secondary level Community Eye Hospital, and a tertiary level Eye Hospital. Each Community Eye Centre (CEC) is responsible for conducting standardized on-site clinical care and periodic outreach activities to the catchment population of an administrative district.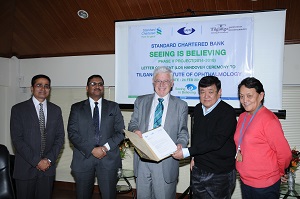 Staffed by mid-level paramedics, the wide scope of comprehensive care includes eye disease prevention and curative intervention (identification, treatment and referral), eye health promotion, focusing on the major causes of blindness and visual impairment in the region – cataract and uncorrected refractive errors.
In the year 2013, Over 2700 cataract Surgeries were performed and over 92,000 patients were treated through Community Eye Centres. Local partners play key role to the program, they are identified to support in operational activities in coordination with concerned stakeholders along with supervision and management from TIO.
To reflect district variations in geography, catchment populations, and local partner capabilities, the CEC model demonstrates flexibility by adjusting CEC components to best suit their local circumstances. Tilganga also believes in empowering the locale community to strengthen the measure to reduce avoidable blindness. So TIO has trained over 6000 Mid-leve and primary level eye care professional like, Ophthalmic Assistants, Eye Health workers, Female Community Health Workers, and traditional healers in the community.

Ravi Gautam,
Sr. Monitoring and Evaluation Officer
Nepal Eye Program(NEP)-Tilganga Institute of Ophthalmology, Kathmandu, Nepal