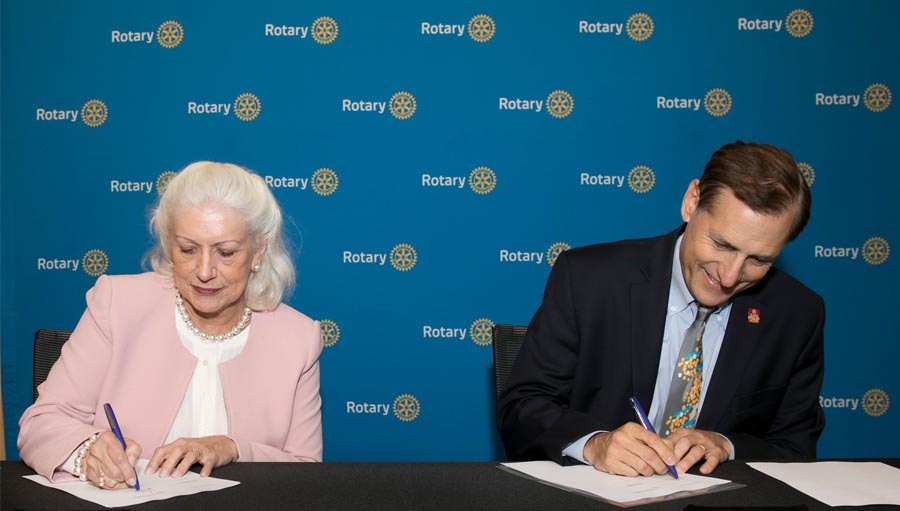 Under the one-year partnership signed by Rotary International General Secretary John Hewko and Vice President of IAPB Victoria Sheffield, Rotary clubs can partner with IAPB member agencies to provide access to continuous eye care and blindness prevention services. These could include eye exams, cataract screenings and treatment, and diabetic eye examinations and follow-up services.
The Rotary International-IAPB Service Partnership
Service partnerships encourage the Rotary family and IAPB members to explore grass-roots collaboration opportunities as most appropriate in the communities they seek to support. Joint service endeavors seek to strengthen eye care facilities by improving access to quality, sustainable eye care services that can address the leading diseases causing blindness.
What can IAPB members do?
IAPB members and Rotary club joint projects may support various aspects of a highly functioning eye care facility such as:
Strengthening leadership, governance and team work
Training and retention of ophthalmic, optometric, management, and allied ophthalmic staff
Improving or expanding infrastructure and facilities
Procuring ophthalmic/optometric instruments, equipment and supplies
Screening and outreach programs that bring in patients needing eye care
Developing sub-specialty eye care services
Strengthening clinical and surgical processes
Strengthening administrative and management systems